Campaigner Vicky Phelan has said delays in the cervical screening process are "unacceptable".
Speaking on RTÉ's Today with Miriam O'Callaghan, Ms Phelan said the decision by Minister for Health Simon Harris last year to offer free repeat smear tests was the right one.
However, she said the move was not supported by adequate resources.
"I've always said I thought it was the right decision at the time because women were terrified," she said.
She added: "The problem was it wasn't backed up with resources so they didn't have the capacity, we've been told there is no capacity and that is why there is this delay, which is unacceptable."
She said Ireland has a very poor record and history of dealing with women's issues.
Ms Phelan was awarded €2.5m when she settled a High Court action with a US laboratory over the alleged misreading of her cervical cancer smear.
One year on, she has become one of the figureheads for a group of more than 200 women who were affected by the CervicalCheck crisis.
Ms Phelan said there are people out there who would never have been able to do what she did.
However, she quickly added this is not because she is great, but rather that she is stubborn.
Ms Phelan has welcomed the Scally Report that has come about as a result of the crisis, describing it as a "watershed moment in Irish healthcare".
She said Dr Gabriel Scally, the author of the report, was not afraid to criticise, adding that it was not a token report.
Ms Phelan said the report has provided a template for a screening system that will save lives.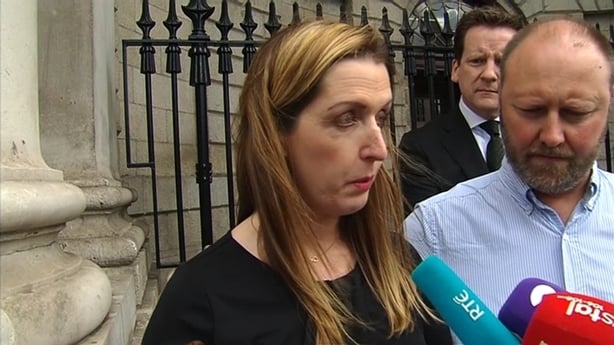 Ms Phelan entered the public consciousness when she delivered a statement on the steps of the Four Courts on 25 April 2018.
She told the programme she had wanted her solicitor, Cian O'Carroll, to make the statement on her behalf, but he had insisted she did it. She wrote the statement on the train to Dublin from her home in Limerick.
Talking about the statement, Ms Phelan said she did not want to undermine the screening system or tell women to stop going for screenings.
She said while there were problems with the management of the screening programme, screening saves lives.
"I'm delighted I did take the decision to convince people to stick with the programme," she said.
A year on, Ms Phelan admitted she feels "uncomfortable" with her public status.
"I never did it for the celebrity," she said. "It's for people I'm doing this, not for plaudits or awards."