Russian Prime Minister Dmitry Medvedev has said Moscow has a chance of improving ties with Ukraine under the leadership of Volodymyr Zelensky, adding however that he has "no illusions".
In the first reaction by a senior Russian official following yesterday's landslide victory for Mr Zelensky, a comedian with no political experience, Mr Medvedev said: "There is a chance for improving cooperation with our country".
The result of the election, in which Mr Zelensky roundly defeated incumbent Petro Poroshenko, "shows a clear demand for a new approach to solving Ukraine's problems", Mr Medvedev wrote on his Facebook page.
Ukraine and Russia have been at odds since a 2014 uprising ousted a pro-Kremlin leader.
Russia that year annexed Crimea and has backed separatists in a conflict in eastern Ukraine that has killed some 13,000 people.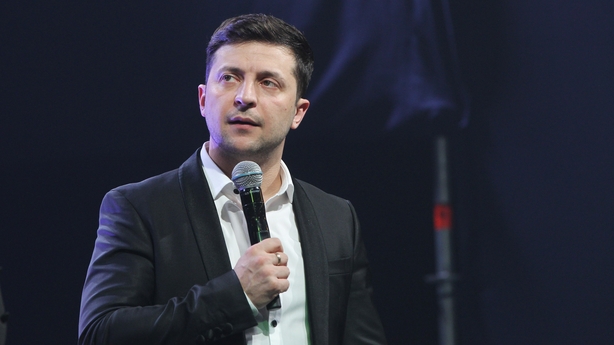 Mr Poroshenko during the campaign said that Mr Zelensky was too inexperienced a leader to be able to stand up to Russia's Vladimir Putin.
Mr Medvedev said he has "no illusions" about Mr Zelensky.
"No doubt that the new head of state will use the same rhetoric towards Russia that he used in his campaign," he wrote.
The EU's top officials have congratulated Mr Zelensky on his landslide victory, saying the vote proved the troubled country's commitment to democratic values.
"Allow us to express our appreciation for the strong attachment to democracy and the rule of law that the people of Ukraine have demonstrated throughout the electoral process," EU Council President Donald Tusk and European Commission head Jean-Claude Juncker said in a joint letter to Mr Zelensky.
"This is a major achievement in the complex political, economic and security environment, against the backdrop of continuous challenges to Ukraine's territorial integrity," they said.
Kiev's pursuit of closer ties with the west and the European Union helped trigger the five-year conflict with Russia that has seen the EU slap sanctions against Moscow.
Mr Tusk and Mr Juncker said that Mr Zelensky "can also count on the EU's continued and steadfast support of Ukraine's sovereignty, independence and territorial integrity," in reference to the conflict.
The war in eastern Ukraine between government forces and rebels backed by Moscow has claimed some 13,000 lives and rumbles on despite a series of periodic truce deals.