It's that time of the year again, the ritual of spring forward and fall back.
The clocks go forward - at 1am to 2am on Sunday morning. It means we lose an hour of sleep but evenings will be brighter.  
It could be one of the last times we do it though as the EU parliament has proposed to scrap the practice of the seasonal time change in 2021.
Spare a thought for Kevin Chellar this weekend.
He's a horologist.
In his shop on Dublin's St Patrick Street, he is surrounded by clocks -  around 200 of them. All of them are antiques, and all of them have to be reset, as time shifts forward by an hour at 1am on Sunday.
Such is the task ahead of him, he says he will not do them all in one go.  
"You have to have great dexterity in this job," he says.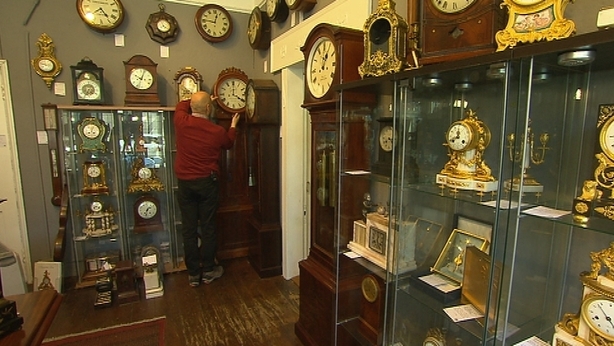 The seasonal clock changes may soon be a thing of the past however, with the EU parliament this week voting that the practice should end in 2021.
Kevin admits he is a traditionalist and wants to keep things the way they are, but it seems he is very much in the minority.
A Europe-wide consultation on the matter received over four-and-a-half million responses.
Over 84% were in favour of abolishing the practice, citing the current arrangements as confusing, while others said too that there were negative health impacts.
Most EU members have had a long tradition of summertime arrangements. Many date back as far as the First World War.
Historically, it was introduced as a way to save energy. Here in Ireland, the brighter mornings were seen as particularly beneficial to children going to school and to farmers.
But many people now believe the twice yearly change is redundant. If it is to be scrapped, we then have to decide what time zone we want to be part of - summer time - or winter time.
Put simply, it is a choice between brighter evenings or brighter mornings. So what do the public prefer? We went under the Clerys clock to ask.
We need your consent to load this rte-player contentWe use rte-player to manage extra content that can set cookies on your device and collect data about your activity. Please review their details and accept them to load the content.Manage Preferences

An interdepartmental group has been set up to examine the matter. It will report back to Government.
But with most things these days, Brexit could complicate matters and we could in theory end up with the Republic and the UK being out of sync, with two different time zones on the island of Ireland.
But could that scenario be allowed to arise?
Taoiseach Leo Varadkar has said he would not accept such a divergence.
Time will tell.
We need your consent to load this rte-player contentWe use rte-player to manage extra content that can set cookies on your device and collect data about your activity. Please review their details and accept them to load the content.Manage Preferences