The economy is expected to grow by 3.8% this year - a slower pace than previously forecast, according to the Economic and Social Research Institute.
The ESRI said this was due to the impact of the international and European slowdowns seen since the end of last year.
But the growth forecast could be cut drastically in the event of a no-deal Brexit.
With signs that firms are investing less, and consumers becoming increasingly wary of spending, the ESRI has marked down its growth forecast from 4.2% to 3.8%.
That is still a strong rate of growth, but trending down in line with weaknesses seen in the wider international economy.
But the forecasts are based on a deal between Britain and the EU that effectively means no change to current trade arrangements for almost two years.
A disorderly Brexit would see growth here cut to just over 1% this year.
We need your consent to load this rte-player contentWe use rte-player to manage extra content that can set cookies on your device and collect data about your activity. Please review their details and accept them to load the content.Manage Preferences

Using ECB data, the ESRI also sees signs that the banks are tightening lending conditions for small and medium sized firms, with the rate of credit refusals here running at twice the euro area average.
Lending conditions became tighter after Britain voted to leave the EU.
In the most recent survey of SMEs, Irish firms had a similar loan application rate for term loans to the Euro Area average.
But the rejection rate for Irish SMEs stood at 7% - was nearly double that of the Euro Area average.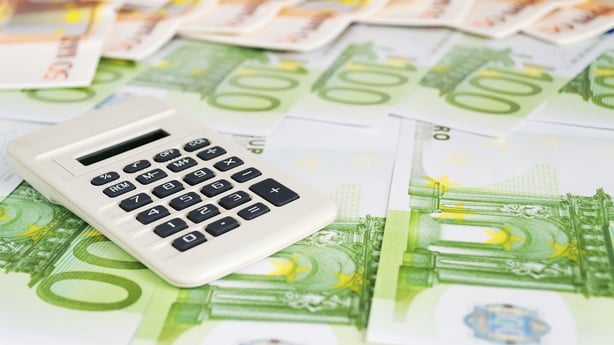 The rise in the rejection rate after the Brexit vote may indicate that the banks are reappraising the credit risk of Irish companies exposed to UK trade. 
Application rates for short term credit are also much lower than in other European countries, which may suggest lower credit requirements, with firms able to meet short term financing needs from their own funds. 
The ESRI also says it was noteworthy that applications for short-term loans by Irish companies was comparable to other European countries until the Brexit referendum, but has since trended downward in a marked fashion. 
Credit rejections for short term loans also rose after the Brexit vote, but have since fallen back in line with other EU states. 
ESRI cuts growth forecast and warns of futher revisions due to Brexit pic.twitter.com/Or9optVX5h

— RTÉ Business (@RTEbusiness) March 27, 2019
As well as tighter lending conditions, the ECB data shows Irish firms - like mortgage holders - face higher interest rates than the Euro Area average. 
Large companies face an interest rate on new loans of 1.92%, on average 60 basis points higher than the Euro Area average for loans of more than €1m. 
But for SMEs, captured by the data on loans of less than €250,000, the survey data shows that Irish firms faced an interest rate of 4.29%, while the Euro Area average rate was 2.24% - a full 200 basis point difference. 
Within Ireland, the highest borrowing rates are seen for businesses in the education, transport and business services sectors, while hotels, real estate and manufacturing get the lowest rates.
The ESRI says policies to make the banking industry more competitive and efficient are required if the cost of borrowing for Irish businesses is to come down towards the European average.
Optimism among Irish companies at weakest point in eight years - AIB
Meanwhile, optimism among Irish companies has fallen to its weakest point in eight years, according to a new AIB report.
The AIB Ireland Business Activity Insight Report finds sentiment around profits, employment and investment lower than reported in October 2018 as uncertainty around Brexit continues.
The report said hiring expectations are at their lowest since June 2012 across the manufacturing and services sectors.
It found that only 16% of companies in those sectors have a written Brexit plan in place.
Head of Business Banking at AIB Catherine Moroney said that the business activity survey was conducted during a period of intensified uncertainty due to Brexit.
She said that although sentiment overall is lower than October 2018, it is still in positive territory.
"Expectations around the performance of the Irish economy, which will lead to increased staffing requirements and capital investment, are supporting positive sentiment," Catherine Moroney said.
"Whereas cost inflation, lower profits and lack of clarity regarding the impact of Brexit and global trade wars means businesses are more cautious on outlook," she added.