A Syrian refugee and his son were buried in New Zealand in the first funerals for those killed in the twin mosque shootings as Kiwis braced for days of emotional farewells.
An Australian white supremacist gunman killed 50 Muslim worshippers at two mosques in the southern city of Christchurch last Friday.
Hundreds of mostly Muslim mourners gathered at a cemetery not far from Linwood Mosque, the second of the two places of worship targeted.
There they prayed and laid to rest Khaled Mustafa and his 15-year-old son Hamza, their names broadcast over a loudspeaker.
The Mustafa family arrived last year as refugees in New Zealand seeking sanctuary from the civil war in Syria.
Younger brother Zaid, 13, was wounded but survived and attended the funeral in a wheelchair, his hands held aloft as he prayed alongside the rows of mourners.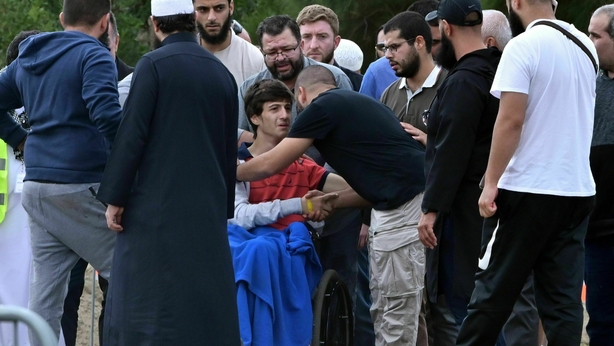 Also among those in attendance was Abdul Aziz, an Afghan refugee who bravely confronted the gunman at Linwood Mosque. He was hugged by many mourners.
We need your consent to load this rte-player contentWe use rte-player to manage extra content that can set cookies on your device and collect data about your activity. Please review their details and accept them to load the content.Manage Preferences
Australian PM criticises Erdogan for 'reckless' Christchurch comments
Muslims whose loved ones were killed have had their grief compounded by the delay in the return of bodies to families in time for a speedy burial, as required under Islamic custom.
Only six of the 50 victims have been returned to their families so far.
Authorities say they are doing all they can to speed up autopsies and the formal identification of those killed.
Police commissioner Mike Bush said that the process had been slow because of the need to identify victims conclusively and to avoid hindering the prosecution.
In a briefing, he said he hoped a further six bodies would be returned to families.
So far 21 victims have been formally identified by the coroners, he added.
"We are doing all we can to undertake this work as quickly as possible and return the victims to their loved ones," police said in a statement.
"While identification may seem straightforward the reality is much more complex, particularly in a situation like this."
The killings have sparked outrage and revulsion in New Zealand as well as a debate about the country's comparatively permissive gun laws and whether authorities have done enough to track far-right extremists.
Prime Minister Jacinda Ardern visited Cashmere High School, which lost two students in the shootings - Sayyad Milne, 14 as well as Hamza Mustafa.
Asked by a student how she felt, Ms Ardern replied simply: "I am sad".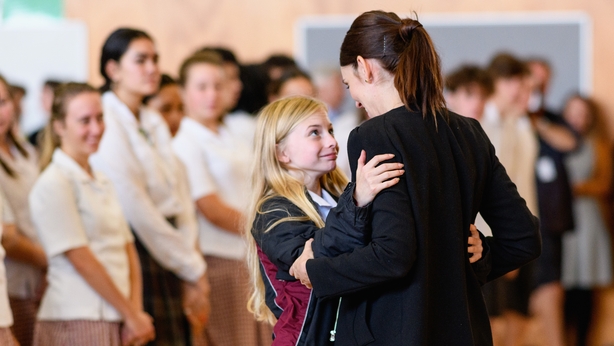 A day earlier Ms Ardern vowed gunman would face the "full force of the law" as she opened a sombre session of parliament with an evocative "as-salaam alaikum" message of peace to Muslims.
But she pledged that she, and much of New Zealand, would deprive the 28-year-old gunman of the publicity he craved by never uttering his name.
"He is a terrorist. He is a criminal. He is an extremist. But he will, when I speak, be nameless," she told assembled lawmakers.
"I implore you: Speak the names of those who were lost rather than the name of the man who took them."
In a rambling "manifesto," the gunman had said he was motivated partly by a desire to stoke a violent response from Muslims and a religious war between Islam and the West.
The so-called Islamic State group, in a message on social media, appeared to encourage retaliatory attacks.
Following the mass shooting, Ms Ardern has promised to reform New Zealand laws that allowed the gunman to legally purchase weapons used in the attack.