US Senator Bernie Sanders has launched his campaign for the Democratic nomination to run against Donald Trump in next year's presidential election.
Addressing a rally in his native New York, the 77-year-old Vermont Senator vowed to defeat what he called  "the most dangerous president in modern American history" in Donald Trump.  
Mr Sanders was beaten by Hilary Clinton for the Democrat nomination in the 2016 election.
He told his supporters at the rally in Brooklyn that he was confident he would defeat the other dozen or so Democrats seeking the nomination.
Brothers and sisters: We have an enormous amount of work in front of us. If we stand together, if we don't allow Trump and his friends to divide us up, there is nothing we cannot accomplish.

This country has an extraordinary future. Let's make it happen.  #BernieInBrooklyn

— Bernie Sanders (@BernieSanders) March 2, 2019
He said he was confident that he would not only defeat Mr Trump but would "transform this country and finally create an economy and a government which works for all of us, not just the one percent."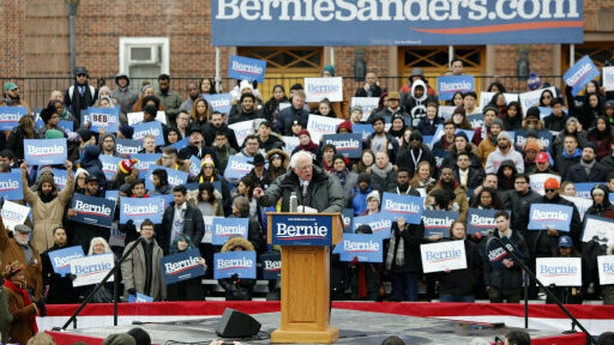 Contrasting his situation to that of Mr Trump, the Vermont Senator emphasized his upbringing as the working class son of a Jewish immigrant who grew up in poor housing.
"I did not have a father who gave me millions of dollars to build luxury skyscrapers, casinos and country clubs. I did not come from a family that gave me a $200,000 allowance every year beginning at the age of three," he said.
Sanders spelled out his big ticket items for 2020, as; "Medicare for All; a $15-an-hour minimum wage and climate change. 
Many are long-held principles previously dismissed as too radical by more moderate Democrats, but have now become accepted by many of the more progressive Democratic candidates.