The chairpersons of two Oireachtas committees have demanded that the head of the Department of Public Expenditure and Reform, Robert Watt, attend their meetings and answer questions about financial oversight on big capital projects.
The chair of the Oireachtas Finance Committee, John McGuinness, has accused Mr Watt of giving "two fingers" to his committee members by refusing to attend their hearings.
Mr McGuinness claimed that Mr Watt was "playing politics" with the Oireachtas, by agreeing to go before the Public Accounts Committee and then "dictating" both the date and agenda.
The Chair of the Oireachtas Health Committee, Dr Michael Harty, said Mr Watt "... should attend our committee. I can see no reason why he wouldn't".
The Health Committee has sent three invitations since last December to speak about the cost overrun at the National Children's Hospital, but Mr Watt had declined to attend on each occasion.
Dr Harty told RTÉ News: "We are very anxious that he would attend. It is a vital health issue which transcends his position in the Department of Public Expenditure."
It emerged over the weekend that Mr Watt had agreed to go before the PAC on 7 March to be questioned about financial oversight of the State's capital expenditure plans.
Mr McGuinness told RTÉ News that it was part of Mr Watt's remit to attend his hearings given it is called the Committee on Finance, Public Expenditure and Reform, and Taoiseach.
The Fianna Fáil TD said: "He is not going to get away with it."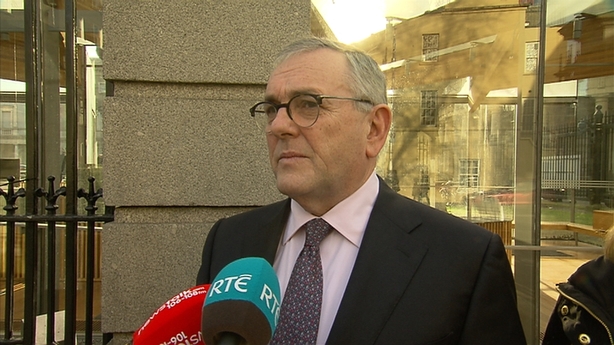 Mr McGuinness said he would be raising the matter with Minister for Finance and Public Expenditure, Paschal Donohoe, when he addressed their committee this Thursday in relation to the estimates.
In his letter to the PAC, Mr Watt expressed a willingness to answer any questions which may be put to him.
He stated: "I wish to be helpful in terms of setting out to the Committee of Public Accounts the role of my Department in relation to general capital expenditure."
However, he also noted that three other committees wish to speak about the same matters.
In an apparent move to strike a compromise, he says: "I would be grateful if you could confirm with the Chairs of the aforementioned Committees that the Committee of Public Accounts is the Committee that I should attend to the issues raised."
On Saturday, the Chair of the Public Accounts Committee, Sean Fleming, said he was going to liaise with other committee chairs and assess if some of their representatives could attend the PAC on 7 March.
While Mr McGuinness said he believed such an expanded meeting would "go against standing orders", Mr Harty said he would attend even if "... it's not ideal".