The former business editor of the Sunday Business Post has said there was no "crazy conspiracy" against businessman Denis O'Brien.
Tom Lyons was giving evidence in the defamation action being taken against the newspaper by businessman Denis O'Brien.
Mr O'Brien claims reports published in March 2015 portrayed him as one of a gang of "developer kings" who over borrowed, destroyed the country and bankrupted the banks.
The Sunday Business Post says the articles do not have the meanings claimed by Mr O'Brien.
Mr Lyons denied having any malice towards the people named by the newspaper as a "gang of 22" who owed the most money to Irish banks in 2008.
He said the newspaper faithfully reported the contents of a report by accountants PwC given to the Government in November 2008 about the state of Ireland's banks.
He said the 22 people listed in the newspaper were listed in the PwC report as the people who owed most to the Irish banks in the same order.
He denied that the word "gang" in the headline of the article was a reference to criminality.
He said it referred to a group of people some of whom were very good guys, including Denis O'Brien.
Mr Lyons told the court there were some very decent people on the list - some of whom ended up costing the taxpayer lots of money - and there were people like Mr O'Brien: a successful businessman, a good borrower, who repaid everything. He said that was made very clear.
Mr Lyons showed the court a copy of a biography of Mr O'Brien by journalist Siobhan Creaton, and said there were six references in the book to Mr O'Brien being in a gang.
Mr Lyons said he did not believe Mr O'Brien's claim that he had not read this book.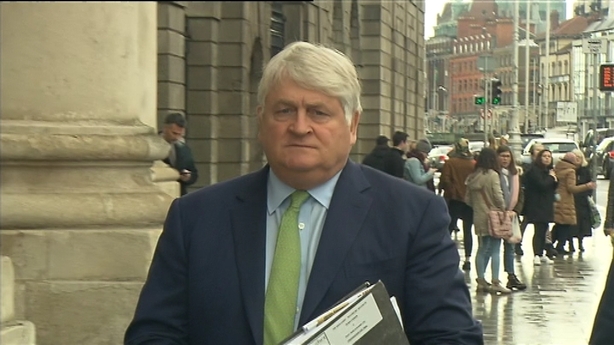 Mr Lyons denied that he had any malicious intent in relation to any of those listed. He said he knew quite a few of them professionally and dealt with them all the time.
Mr Lyons said the paragraph written specifically about Denis O'Brien was attempting to convey that he was an upstanding individual who got caught up in the Irish financial crisis but that he had paid every interest bill, met every debt and ultimately paid back everything.
Asked about another borrower on the list - developer, Sean Mulryan, Mr Lyons said he was someone he would hold in high regard. He said he would have interviewed him after this article and Mr Mulryan had not mentioned the articles to him and had not accused him of saying he was a criminal "and all this kind of nonsense".
Mr Lyons again repeated that there was a "fear factor" around Mr O'Brien and that he and the newspaper's editor, Ian Kehoe had considered it might be easier not to include his name even though he was on the PwC's list. He said Mr O'Brien was the biggest employer of journalists in the country and sued a lot of them. But they decided not to omit him.
He said it was nonsense to suggest that they made up a story and put Mr O'Brien in the middle of it. Mr Lyons told the newspaper's senior counsel, Michael McDowell that he found that suggestion by Mr O'Brien "pretty shocking".
He said there was no crazy conspiracy by the journalists to keep making stuff up about Mr O'Brien and sticking it in a report and asked "why on earth would we do that".
Mr Lyons said he did not believe Mr O'Brien could seriously believe that he was not on the list of the top 22 borrowers.
Mr Lyons told the jurors he destroyed his copy of the report to make sure he 100% protected his source. He said every page of the report had a number which was traceable and he also suspected there were secret markings on it.
He said he was concerned the Government might go into court seeking an order for the report to be returned so to be on the safe side he decided to get rid of it and shoved it into the office shredder, probably on St Patrick's Day 2015, two days after the articles were published. He said his most important priority was to protect his sources.
Earlier, Mr Lyons was taken through every line of the disputed articles by Mr McDowell. He said that he did not claim Mr O'Brien was struggling to pay his interest and had actually written the complete opposite.
A reference to "developer kings", he said, referred to the big developers in Ireland. He said what happened to the country was telling and disturbing as described in the articles.
Mr Lyons said he had commissioned and accepted responsibility for a column written by journalist, Gavin Sheridan headlined "people of influence, people of blame".
He said it was commissioned in the context of the banking inquiry which was about to start interviewing some of the people directly involved in the financial crisis. It raised questions for the banking inquiry to answer and he said he defended the article.
Mr Lyons claimed the articles did not suggest any wrongdoing by Denis O'Brien and that Mr O'Brien was not that relevant to the PwC report.
Mr O'Brien thought it was all about him, but it was about what happened to the country during a terrible financial crisis and Mr O'Brien was not the central figure.
Mr Lyons said the newspaper was professional and diligent in its reporting. He said Mr O'Brien was not the "odd man out" and was in the article because he was on the PwC list.
Under cross-examination by lawyers for Mr O'Brien, Mr Lyons was asked detailed questions about the original report by accountants PwC on which he based his reports.
Senior Counsel Paul O'Higgins asked him why he did not tippex out the number and photocopy the report or get someone to type it out before shredding the original document.
Mr Lyons said he was not as well resourced as Mr O'Higgins and he said they did not think they would need it - he said they knew they were faithfully reporting the report.
Mr Lyons said he had not kept a note of what was in the report - he said he wrote his articles with a copy of the report beside him.
He said the editor, Mr Kehoe, also read the report to make sure the figures in his articles were accurate.
He told Mr O'Higgins he could not remember the number of pages in what Mr O'Higgins described as a so-called "sensational" document or the number of chapters.
He agreed he was offended by suggestions that he had made up the fact that Mr O'Brien was listed in the list of 22 borrowers. Mr Lyons said that was ridiculous.
Mr O'Higgins repeatedly asked him to set out exactly what figures were in the report about Mr O'Brien, particularly in relation to property borrowings.
He said Mr Lyons had only mentioned one figure of €22 million in relation to a house on Shrewsbury Road in relation to property borrowings.
Mr Lyons said there was not a full breakdown of all Mr O'Brien's deals in the report.
He said he had covered all the main points and key figures in his articles in the newspaper. He said he was trying to tell a very important story to the Irish people and did not record every single minor detail about each person.
The journalist said he could not remember every single thing in the report but said every single thing they wrote was correct.
Mr Lyons said the articles were about Ireland and were not really about Mr O'Brien.
Mr O'Higgins asked Mr Lyons why the newspaper had not put on the front page that Mr O'Brien had borrowed €1 billion, had paid every penny back and had nothing to do with the recession.
He asked why Mr O'Brien's name was one of eight printed the front page.
Mr Lyons said the names picked for the front of the paper were the names best known for the Sunday Business Post's readers.
The case will continue tomorrow.