Black smoke which caused the deaths of ten people would have enveloped a mobile home within minutes, an inquest has heard.
Five adults and five children died in a fire at the Glenamuck halting site in south Dublin in October 2015, which is believed to have been started by a chip pan.
Fire safety engineer David O'Connor told Dublin Coroners' Court that polystyrene lining in the walls would have caught fire from a splash over from the burning oil.
He said that the smoke would have spread throughout the kitchen/living room within a couple of minutes and to the two bedrooms within four minutes.
The fire would have then have spread from a "flashover effect".
We need your consent to load this rte-player contentWe use rte-player to manage extra content that can set cookies on your device and collect data about your activity. Please review their details and accept them to load the content.Manage Preferences
Mr O'Connor said the proximity of the bedroom window of the first unit to the kitchen window of the second unit "virtually assured" that the fire would spread to it.
He said Dún Laoghaire-Rathdown County Council was exempt from building regulations as they were temporary housing structures.
Fire safety was the responsibility of the home owners and council staff or fire safety officers had no right of entry.
If the units were subject to building regulations the fabric of the portacabins would not have provided the 30-minutes fire resistance required,
The second bedroom in the first unit did not have an escape window.
There was no evidence of fire alarms in either unit.
Under Department of the Environment guidelines for temporary halting sites, housing units are supposed to have at least six metres between them and families are supposed to only stay for up to five years.
However, coroner Dr Myra Cullinane said Dún Laoghaire-Rathdown County Council has said the Glenamuck halting site was not subject to these guidelines as it was an emergency facility.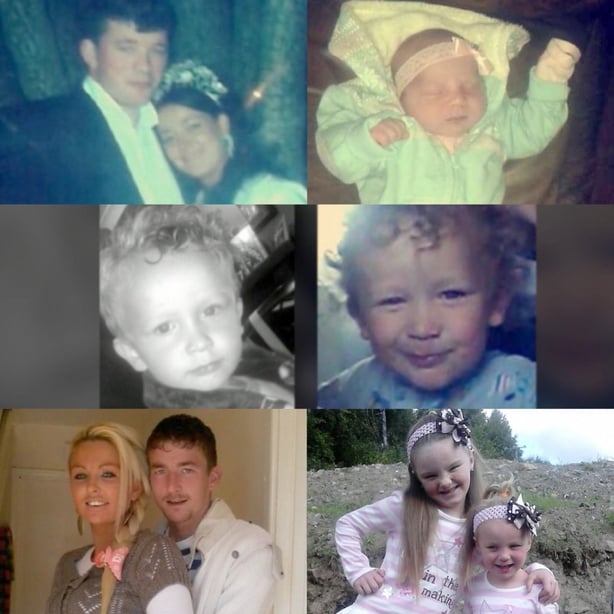 Those who died in the fire were Thomas Connors, 28, his wife Sylvia, 30, and their children Jim, five, Christy, three, and five-month-old Mary, Willie Lynch, 25, a brother of Sylvia Connors, his partner Tara Gilbert, 27, who was four months pregnant, daughters Jodie, nine, and Kelsey, four, and 39-year-old Jimmy Lynch, another brother of Sylvia.
Under cross-examination by solicitor Michael Staines for the council, Mr O'Connor said it was "possible" that Mary Connors was exposed to toxic fumes for at least 20 minutes before she was taken out of the first portacabin.
Mr Staines pointed out that CCTV records showed the first sign of a fire at 4.17am and technical evidence had shown that the portacabin could have been full of smoke for between 10 and 30 minutes before that. The fire became greater at 4.23am.
Mr Staines said evidence of other residents had stated that it was only a couple of minutes between the time Mary was taken out by her uncle and placed in the second portacabin and the fire being noticed spreading to the second home at 4:38am.
Mr O'Connor agreed the probable reason that Mary died while Tom survived was because she was lying higher up on a bed while her brother was on the floor.
Earlier, mechanical engineer Paul Collins told the inquest that in his view the cause of the fire was "definitely" a chip pan that was left on.
He examined the electric cooker taken from the scene and said it appeared the chip pan containing oil and a steel wire basket had been left on a hotplate that was fully on.
Mr Collins said there was no sign of irregular electrical activity.
Acting Chief Fire Officer Denis Keeley of Dublin Fire Brigade said there was no problem with water pressure or access to a water hydrant for firefighters on the night.
He said there was no issue in using three length of hose to reach a hydrant.