An inquest has heard that the fire that killed ten people at a halting site in Carrickmines, Co Dublin, was caused by a chip pan.
Detective Inspector Martin Creighton told Dublin Coroner's' Court that the source of the blaze in 2015 was found to be an electric cooker in a mobile home at the Glenamuck halting site.
He said that a chip pan had been left on a hot plate on the cooker.
The inquest heard that the victims were all staying in the same housing unit but the fire spread to a second home in the tragedy, which occurred in the early hours of 10 October 2015.
We need your consent to load this rte-player contentWe use rte-player to manage extra content that can set cookies on your device and collect data about your activity. Please review their details and accept them to load the content.Manage Preferences
The detective inspector said that a full and very comprehensive investigation had included liaison with Dublin Fire Brigade, 200 witness statements, door-to-door inquiries and CCTV evidence.
Earlier, Coroner Myra Cullinane told a jury of eight men and four women that their difficult task would be to establish the identity and cause of each death and return an appropriate verdict.
She said the jury could make a general recommendation to minimise the possibility of similar future deaths but their "difficult task" was not concerned with finding fault or exonerating anyone.
Those who died were Thomas Connors, 28, his wife Sylvia, 30, and their children Jim, five, Christy, three, and five-month-old Mary, Willie Lynch, 25, a brother of Sylvia Connors, his partner Tara Gilbert, 27, who was four months pregnant, and daughters Jodie, nine, and Kelsey, four, and 39-year-old Jimmy Lynch, another brother of Sylvia.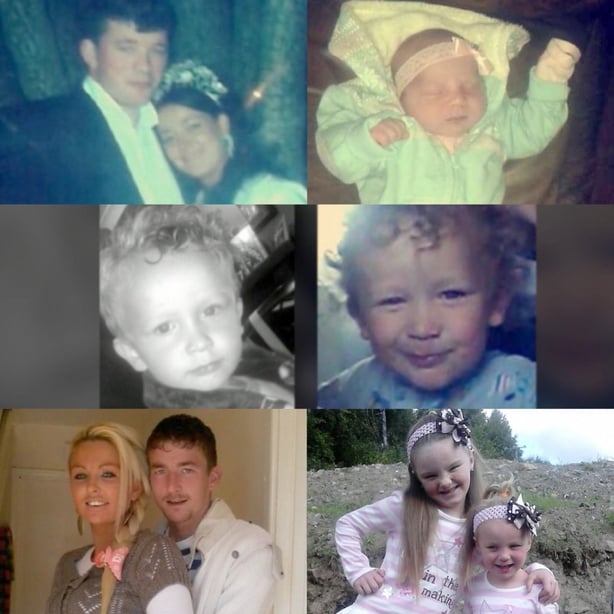 The Lynch family had been visiting the Connors family at the time.
The DPP ruled there were no grounds to prosecute Dún Laoghaire-Rathdown County Council under health and safety legislation.
Chief Executive of the council Philomena Poole told the inquest that she was not aware of any particular problems with the site.
The council's director of services Thomas McHugh said the Glenamuck halting site was a temporary emergency site provided in 2008 for families who were living at the side of the road.
In answer to Coroner Cullinane, he said that temporary emergency sites were exempt from housing regulations including fire safety regulations.
Mr McHugh said there was no time limit on the exemption and added that a permanent site could not be provided on the site as it was due to be used for road development.
The inquest heard that the halting site was extended to allow in Thomas and Sylvia Connors' family in 2015 who had moved into a field beside the site.
Senior executive officer with the council Ann Hegarty said the field was "mucky" and uninhabitable and agreed with solicitor Michael Staines for the council that the choice was to evict the family or move them into the temporary emergency halting site.
She said fire extinguishers and a water hydrant were provided as well as water, electricity, washing facilities, sewerage and refuse collection.
Conor Peoples, who was then a senior staff officer in the Traveller accommodation unit, said the Connors' mobile home was moved within one metre of another unit.
He said he was not aware of any safety issue at the time but has since learned that the optimum distance is six metres.
Mr Peoples said that the Connors' unit was provided with a fire extinguisher, fire blanket and smoke alarm.