US President Donald Trump has stood firm on his demand for billions of dollars to fund a border wall with Mexico, which has forced a shutdown of the US government that is now entering its third week.
"We have to build the wall," Mr Trump told reporters as he left the White House for the Camp David presidential retreat, while conceding that the barrier could be "steel instead of concrete."
"It's about safety, it's about security for our country," he said.
"We have no choice," he added.
An impasse with congress over funding for the border wall has partially shut down the federal government since 22 December.
Talks aimed at ending the shutdown were to continue today, after discussions a day earlier between Vice President Mike Pence and representatives of Chuck Schumer and Nancy Pelosi, the top two Democrats in Congress, made little headway.
Democrats, who now control the House of Representatives, seem in no mood to make concessions to the president on a border wall Pelosi has described as an "immorality."
"This shutdown could end tomorrow and it could also go on for a long time," Mr Trump said.
"It really depends on the Democrats."
Both Democrats and Republicans have attempted to pin the blame for the shutdown on the other side.
Building a wall along the 3,200km US-Mexico border was a central plank in the 2016 election campaign of Mr Trump, who has sought to equate immigrants with crime, drugs and gangs.
The president has described the situation at the border as a "national emergency," and has said he is looking into ways to get a wall built without congressional approval.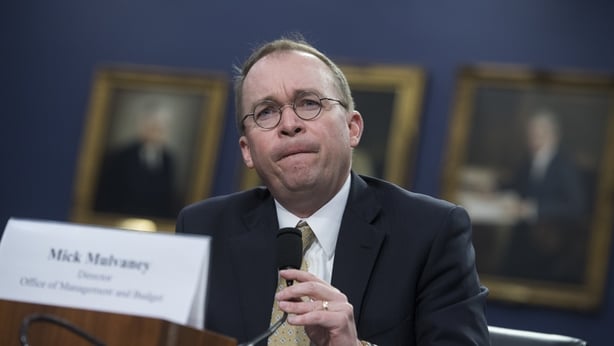 Earlier, showing signs of compromise, the White House signalled that talks to end the shutdown could produce a deal in which Mr Trump moves away from his demand that the border wall be made of concrete.
Mick Mulvaney, the acting White House chief of staff, said in an interview on NBC that agreeing to a steel separation would allow Democrats to stick to their refusal to fund a wall.
"That should help us move in the right direction," said Mr Mulvaney, who is also the head of the Office of Management and Budget.
Democrats have signalled they could accept a deal that precluded a concrete wall but provided funding for a steel barrier.
But they would likely demand other concessions, like protections for immigrants brought to the United States as children, otherwise known as Dreamers, or changes to other spending provisions.
Mr Mulvaney said negotiations between his staff and congressional Democrats were bogged down in technical requests after the two sides met on Saturday morning.
"I think this is going to drag on a lot longer. I think that's by intention," said Mr Mulvaney, who is serving as the top White House aide in an acting capacity.
About 800,000 government workers are either furloughed or working without pay due to the shutdown.
Mr Trump is demanding that any funding to keep the federal government operational also include $5.6 billion to begin building a $23 billion a wall along the US border with Mexico.
Mr Trump has said that he should not have to lower his demand for $5.6 billion in border security funding.
Mr Mulvaney said that the latest round of negotiations held Saturday was "disappointing."
"We're asking for $5.6 billion. They're offering us zero," Mr Mulvaney said.
Democrats, who took control of the House of Representatives last week, passed a bill to reopen the government without providing additional funding for the wall, and have insisted that reopening the government should not be contingent upon wall construction funds.
House Democrats plan to pass a series of bills this week to reopen government, breaking up the legislation they have already approved in a bid to get Republicans to agree to reopen parts of the government, House Majority Leader Steny Hoyer said.
"We need to open up government and then negotiate. Not the other way around," Mr Hoyer said.