British interior minister Sajid Javid has said the fast-growing number of would-be immigrants crossing the English Channel from France in dinghies is a "major incident".
Nearly 70 people have been intercepted in the past three days as they try to reach England by crossing one of the world's busiest shipping lanes.
Mr Javid is also seeking an urgent call with his French counterpart over the weekend, his ministry said.
"He has insisted the Home Office treat the situation as a major incident and has ... asked for daily updates," it said in a statement.
It added that Mr Javid wants to ensure everything possible is being done to deter migrants from attempting the dangerous crossing, "amid concern that it is only a matter of time before people lose their lives".
Dover MP Charlie Elphicke has called for more government funding to deal with the arrivals and the Home Office said Mr Javid has asked border officials to look at options for bringing in extra patrol ships.
Today, Border Force officials brought 12 men to shore at Dover and handed them over to immigration officials to be interviewed. An inflatable boat, carrying one Syrian and three Iranians, was reported to the Coastguard at around 3am. At around 9am a second boat, which was carrying eight Iranians, was also spotted.
On Christmas Day more than 40 migrants tried to cross the sea and enter the UK.
St Stephen's Day saw three more migrants intercepted in a small boat, and yesterday an inflatable boat carrying nine people was rescued by a lifeboat crew a few kilometres off the coast of Sandgate in Kent.
Rescue ship with 308 migrants docks in Spanish port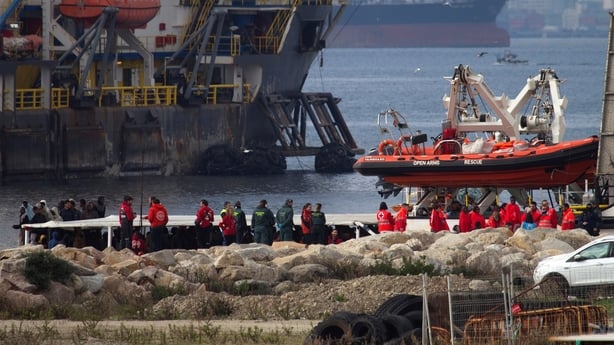 A Spanish charity rescue ship today docked in Algeciras port in southern Spain, bringing ashore more than 300 migrants rescued in the Mediterranean Sea one week ago.
Several European countries, including Malta and Italy, had refused entry to the Proactiva Open Arms vessel although a mother and her newborn baby were taken by helicopter to Malta.
Most of the 308 migrants are African and had been picked up off the coast of Libya.
Men lined up on the deck of the ship as it entered the port early today, a few wearing Santa hats.
Spanish police and Red Cross staff helped the migrants to disembark.
The Red Cross had set up tents on the dock to administer medical checks.
Illegal immigration to Europe by sea has fallen sharply overall since 2016 but arrivals in Spain have more than doubled annually to the rate of more than 1,000 people per week this year.
Spain's minority Socialist government has accepted hundreds rescued by Proactiva Open Arms this year.
The Socialists lost power in the southern region of Andalusia in local elections this month, with the Vox party who campaigned on an anti-immigration ticket winning seats in the first electoral success for the far right since Spain's return to democracy in the late 1970s.