The Government has announced a ban on large trawlers inside six nautical miles of the Irish coast.
Under the new restrictions, vessels over 18 metres in length will no longer be permitted to trawl within the six mile zone.
The restrictions will come in to effect from January 2020 onwards.
The measures, announced by Minister for Agriculture, Food and the Marine Michael Creed, are aimed at reducing the impact of trawling on the marine environment and to provide better economic opportunities for smaller vessels.
The decision follows an extensive consultation process, initiated last April, which attracted over 900 submissions from interested parties. 
We need your consent to load this rte-player contentWe use rte-player to manage extra content that can set cookies on your device and collect data about your activity. Please review their details and accept them to load the content.Manage Preferences
Bodies representing inshore fishermen have welcomed the announcement.
Alex Crowley of the National Inshore Fisherman's Association said it represents a significant boost for the inshore industry.
Mr Crowley said: "Intensive trawling near the coast is a major issue for us. During bad weather the smaller boats can't get out, while the larger trawlers continue to operate near the coast. By the time they are finished trawling there is very little left for the smaller fishermen."
However, Irish fish producer organisations representing the larger trawlers, have heavily criticised the move.
Owners of larger vessels say the six mile ban raises serious concerns for the safety of fishermen as the restrictions will force the larger boats further from the shore during poor weather.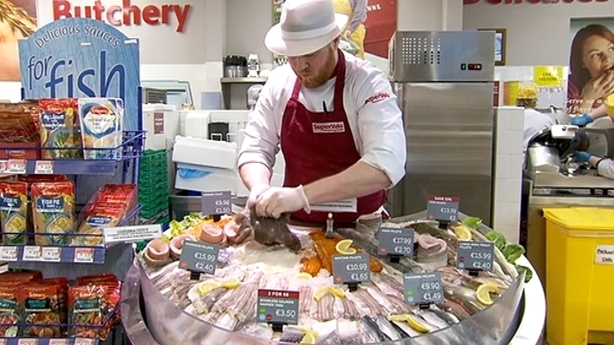 Over 160 Irish registered fishing vessels will be negatively affected by the new restrictions.
According to Bord Iascaigh Mhara the value of landings for the larger vessels (over 18m) from inside six nautical miles is about €5.5m.
The larger vessels will be permitted to trawl for sprat but this will be gradually phased out through a reducing quota over a two year period. Trawling for sprat will cease on 31 December 2021.
Minister Creed said there was a compelling case for excluding trawling by large vessels in coastal waters inside six nautical miles. 
Mr Creed said: "I am satisfied that there are sufficient fishing opportunities for these vessels outside of six nautical miles.
"I also believe that these actions will provide wider ecosystem benefits, including for nursery areas and juvenile fish stocks."
However, the Irish Fish Producers' Organisation (IFPO) has described the move as "problematic" for older vessels.
Francis O'Donnell, IFPO CEO said: "This will be problematic for older vessels with smaller engine power. 6 miles from the base lines would mean a vessel from Killybegs would have to steam as far as killala to fish.
"We advised Minister Creed against this. It poses very serious safety risks for vessels on the west coast."
The new restrictions form part of Ireland's commitment to meet European Union directives.
Under the EU Marine Strategy Framework Directive Ireland is required to take measures to achieve and maintain Good Environmental Status (GES) for its waters.
The Irish Whale and Dolphin Group has welcomed the announcement, describing it as good for marine ecosystems, including whales and dolphins, but also for coastal communities.
The IWDG said the decision will contribute to building inshore fish stocks to healthy levels and provide some ownership back to local communities.