The Minister for Transport has said that he deeply regrets the announcement by Irish Ferries that it may stop sailing between Rosslare and France.
The company said yesterday that it was unlikely to operate the service next year.
It added that it would keep the situation under review and that a majority of its customers had "a clear preference for the more central location and easy access of Dublin".
Irish Ferries said the WB Yeats ship would continue to sail to operate between Cherbourg and Dublin.
Speaking on RTÉ's News at One, Minister Shane Ross said he did not know that the move was going to happen.
We need your consent to load this rte-player contentWe use rte-player to manage extra content that can set cookies on your device and collect data about your activity. Please review their details and accept them to load the content.Manage Preferences
He said his department will make every possible representation to ensure that Rosslare Europort is not disadvantaged by the decision.
Mr Ross said he had spoken to Irish Ferries owner Eamonn Rothwell about the decision and would do so again.
He said: "I told him that what we said was off the record and I'll keep it off the record, but vaguely what I can say is that he said it was a completely commercial decision, and that it would increase the capacity between Dublin and Cherbourg, it would take an hour longer but it would actually increase the tourism and freight, and have the capability of doing more business".
Mr Ross denied that he had been convinced by Irish Ferries that he thought it was the right decision.
"No, they haven't convinced me this is the right decision at all, I think it's very, very bad for Rosslare but what I'm saying is that I can't interfere with a commercial decision that's all."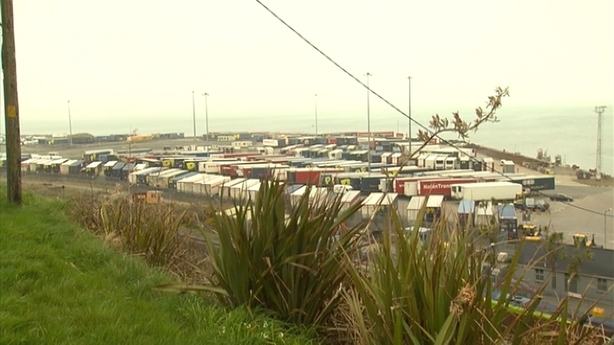 Earlier, the President of the Irish Road Haulage Association called on Minister Ross to intervene in the situation.
Speaking on RTÉ's Today with Seán O'Rourke, its President Verona Murphy described the move as "hugely, hugely frustrating" for her members.
She added that it was a fundamental issue if a hard Brexit comes down the line.
"The minister, and I understand that the junior minister, has asked his officials to make representation with the company, but I think Minister Shane Ross needs to let the country know he's alive and well and intervene in this," she said.
Ms Murphy said that the ferry sailing can take 1,200 cars and 165 trucks and that traffic is going to cause more congestion on an already busy M50.
She described the statement by Irish Ferries as "very vague".
Ms Murphy said she believed the company's announcement that it was unlikely to operate a service "means they're open to negotiation".
She questioned the company's assertion that the majority of customers surveyed had a clear preference for Dublin, referring to it as "fake news", saying she knew nobody who was asked about this.
Ms Murphy said: "The reality is for Irish people, they're going to spend hours to get to a ship that goes past Rosslare, but takes four hours longer and the cost of that for a family of four means spending their money on a ship instead of the environs of Wexford."
She said parking will be another issue for truck drivers at Dublin Port, which does not happen at Rosslare as it is a "freight-friendly" port.
Taoiseach Leo Varadkar said the Government has asked Irish Ferries to reconsider the move.
He was responding in the Dáil to Labour Party leader and Wexford TD Brendan Howlin, who asked for a Government response to the decision and called for State investment in Rosslare Europort.
Mr Varadkar said investment in Rosslare would be a feature of the Government's Brexit preparedness plans to be published shortly.