The cost of renting a home in Ireland continued to rise between July and September, according to new data from the Residential Tenancies Board (RTB) and the Economic and Social Research Institute.
But although rents reached another record high, the rate of that increase is slower than before, the board's latest Rent Index shows.
Amid continuing unprecedented demand, the national average rent rose to €1,122 during the quarter, up 7% on the same period last year.
But a moderation in that pace of growth is also evident, with rental price inflation dropping to 1.9% compared to the previous quarter when it was 3.6%.
In Dublin, the rate of increase was higher than the national picture at almost 9%, bringing the average rent in the capital to €1,620.
The index also found that areas designated as Rent Pressure Zones are seeing a slower pace of rent inflation for people who already have a tenancy.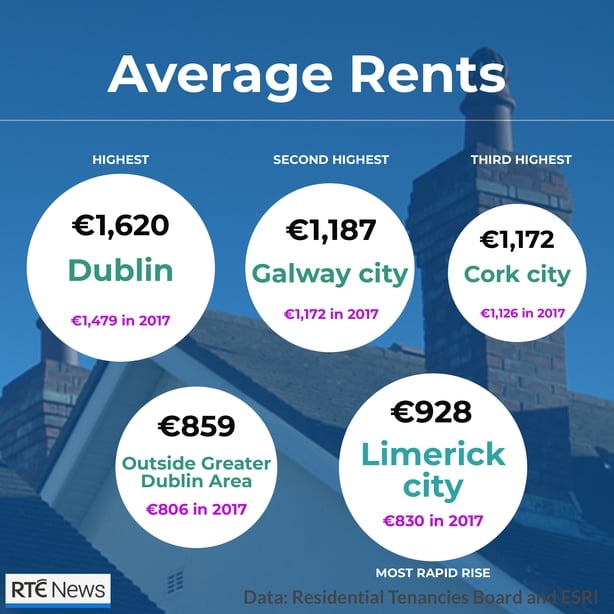 However, one concern for the future is that the number of landlords is falling, despite high rental prices and record demand.
There are 1,778 fewer landlords than there were three years ago, while tenancies have declined by 8,829.
RTB Director Rosalind Carroll said affordability remained an issue for the rental market and in particular more work needed to be done to moderate the rate of rent increases for new tenancies in areas where demand is high.
"At the same time, it is a matter of deep concern that the number of landlords continues to decrease," she said.
"If we are to meet demand and ensure a well-functioning rental sector, then we need more landlords and different types of landlords to offer market options.
"With many landlords leaving, it is increasing strain and pressure and this must be addressed."
Speaking on RTÉ's Drivetime, Ms Carroll said this was also a concern as "institutional landlords are not going to provide housing outside of Dublin, or in rural areas".
She said we need to make it simpler for landlords to understand regulation, which she added was very complicated.
She added that it would be important that new legislation coming into effect in 2019 gives the RTB sufficient powers to investigate and apply sanctions where rent restrictions are breached.
However, the Institute of Professional Auctioneers and Valuers (IPAV) said a report commissioned by the RTB in 2014 had predicted that rent controls would force landlords from the market and it had been entirely predictable that this would happen.
"That study said rent regulations would see the impact falling disproportionately hard on the very people they are intended to assist," said IPAV Chief Executive Pat Davitt.
"In addition, the European Commission warned that rent controls have had a destabilising impact on housing markets in other EU countries.
"Yet we seem hell bent on further regulating the market."
The Irish Property Owners' Association claimed continual interference in the private rental sector has resulted in less accommodation for rent. 
It said Rent Pressure Zones had limited the income of investors without limiting the cost of the provision of the accommodation. 
As a result, it argued, property owners who rewarded good tenants by keeping the rent low, had been unfairly and substantially disadvantaged.
The RTB Rent Index also shows charges remain very variable in different parts of the country.
In Dublin, average rents stood at €1,620, up from €1,479 one year earlier.
The bulk of this growth was driven by apartments, which saw annual growth of 11.7% compared to 6.5% for houses.
Galway city registered the second highest rent levels at €1,187, followed by Cork city at €1,172.
Over the course of the year, Limerick city has seen the most rapid increase in rental costs at 11.8%.
The average rent for outside the greater Dublin area stood at €859, up from €806 year-on-year, an increase of over 6%.
In total, 25,448 new tenancies were registered with the board in the quarter.