Amid loud calls for him to end the "yellow vest" crisis gripping France, French President Emmanuel Macron will address the nation on Monday evening as authorities count the cost of weeks of anti-government protests.
Mr Macron will speak to the French people at 8pm local time (7pm Irish time), his Elysee office announced.
It will be Mr Macron's first public comments after four weeks of nationwide anti-government demonstrations which have turned violent in Paris and other cities.
Mr Macron, who has been the target of many protesters' anger over his perceived pro-rich policies, was expected to announce "immediate and concrete measures" to respond to the crisis, added Labour Minister Muriel Penicaud.
The embattled president will also meet trade unionists and business leaders earlier on Monday morning.
"The president wants to bring together all the political, territorial, economic and social forces at these difficult times for the nation, in order to hear their voices and proposals with a view to mobilise them into action," an Elysee office official said.
It comes as more than 1,700 people were arrested across France during the latest protests as demonstrators clashing with riot police caused more damage in Paris than a week ago.
Clashes broke out in the French capital and several other cities during a fourth weekend of nationwide protests against rising living costs and Mr Macron in general.
A total 1,220 of the 1,723 detained were ordered held in custody, the ministry said.
Police in Paris said they made 1,082 arrests yesterday, up sharply from 412 in the previous round.
The interior ministry said some 136,000 people took part in yesterday's protests across France, around the same number as on 1 December.
But it was Paris which again bore the brunt of the violence and destruction.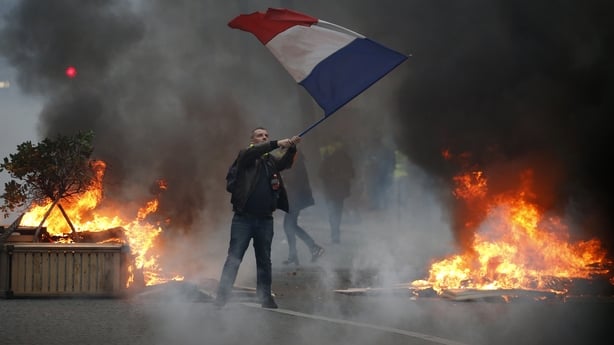 Workers in Paris swept up broken glass and towed away burnt-out cars after the latest "yellow vest" riots, while the French government warned of slower economic growth and said that Mr Macron would address the nation this week.
Anti-government protesters wrecked havoc in the city for the fourth weekend in a row, throwing stones, torching cars and vandalising shops and restaurants yesterday.
Across the city, bank branch offices, toy shops, opticians and other retail outlets had boarded up storefronts smashed by protesters, and walls were covered in anti-Macron slogans.
"You won't make it past Christmas, Emmanuel," read the graffiti on a boarded-up shop near the Champs Elysees boulevard.
Mr Macron, elected in May 2017, is facing mounting criticism for not speaking in public in more than a week as violence worsened.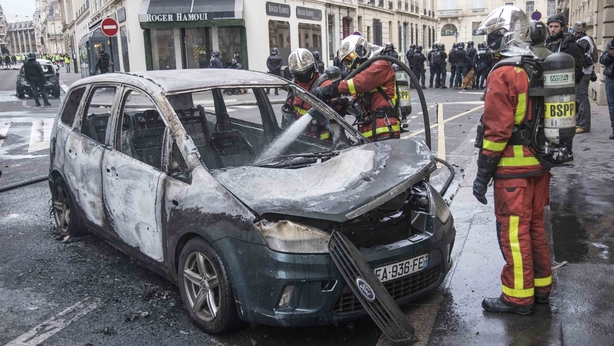 The upheaval in the Christmas shopping season has dealt a heavy blow to retailing, the tourist industry and the manufacturing sector as road blocks disrupt supply chains.
On Saturday, the Eiffel Tower and several museums closed their doors for security reasons, as did top Paris department stores on what should have been a prime shopping weekend.
The government has vowed "zero tolerance" for anarchist, far-right or other trouble-makers seeking to wreak further havoc at protests that have sparked the deepest crisis of Mr Macron's presidency.
French Prime Minster Edouard Philippe congratulated police for the operation, and promised Mr Macron would address the protesters' concerns.
"The dialogue has begun and it must continue," Mr Philippe said. "The president will speak, and will propose measures that will feed this dialogue."
Police reinforcements were boosted to 8,000 across the city, with armoured vehicles deployed in Paris for the first time.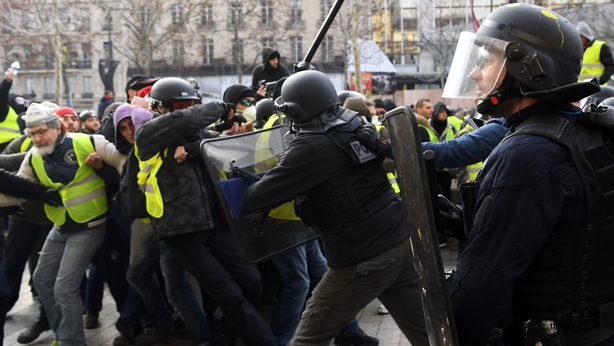 More than 670 protesters were detained in the capital, many of them stopped as they arrived at train stations or meeting points carrying hammers, petanque balls and other potential missiles.
Authorities also launched an investigation into social media activity from accounts allegedly drumming up support for the protests, sources told AFP.
According to the UK's Times newspaper, hundreds of online accounts linked to Russia were used to stoke the demonstrations.
Citing analysis by New Knowledge, a cybersecurity company, the Times said the accounts spread disinformation and used pictures of injured protesters from other events to enhance a narrative of brutality by French authorities.
Officials estimated that a total 125,000 "yellow vests" turned out nationwide throughout the day, down from 136,000 last week.
In Paris, health authorities said 179 people had been admitted to hospital, mostly with minor injuries.
Among the police, 17 were hurt, Interior Minister Christophe Castaner said.
The movement has spread beyond France's borders, with around 400 arrested at a "yellow vest" event in Brussels on Saturday and peaceful demonstrations taking place in Dutch towns.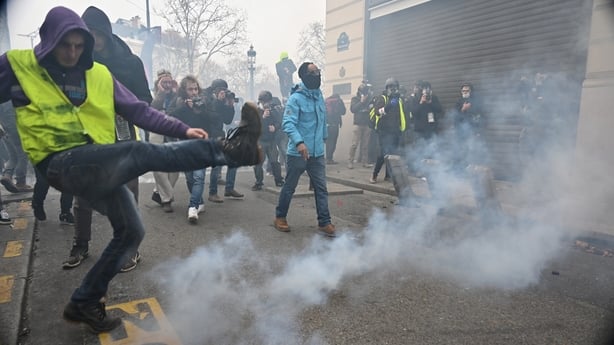 Nationwide, 89,000 police officers were on duty in towns, cities and on numerous motorways which caused havoc on France's road network, including a blockade of a border crossing with Spain.
The protest movement will have "a severe impact" on the French economy, Finance Minister Bruno Le Maire said as he toured an upmarket central Paris neighbourhood that had seen heavy looting on Saturday night.
"We must expect a new slowdown of economic growth at year-end due to the 'yellow vest' protests," Mr Le Maire said.
In the middle of last month, before the protests, the central bank forecast 0.4% fourth-quarter growth.
Economists said then that the economy would need to grow at 0.8% in the final three months to hit the government's 1.7% annual growth forecast.
Named after the fluorescent safety vests that French motorists must carry, the "yellow vest" protests erupted on 17 November, when nearly 300,000 demonstrators nationwide took to the streets to denounce high living costs and Macron's liberal economic reforms.
The government canceled a planned rise in fuel taxes last Tuesday to try to defuse the situation but the protests have morphed into a broader anti-Macron rebellion.
Mr Macron's last major televised address was on 27 November, when he said he would not be bounced into changing policy by "thugs".
Government spokesman Benjamin Griveaux said Macron would make "important announcements" early in the coming week.
"However, not all the problems of the 'yellow vest' protesters will be solved by waving a magic wand," he said.
Yellow vest protesters demand lower taxes, higher minimum wages and better pension benefits.
But, mindful of France's deficit and not wanting to flout EU rules, Mr Macron has scant wriggle room for more concessions.
Foreign Minister Jean-Yves le Drian said the yellow vest movement expressed a deep sense of inequality among French people.
"We need a new social contract for the 21st century," he told LCI televison.
Yellow vest protesters were unimpressed with the government's overtures, continuing their blockade of traffic roundabouts nationwide and vowing to fight on.