Thousands of Hungarians have protested in Budapest against a proposed new labour law that allows employers to ask for up to 400 hours of overtime work per year, a move its critics have billed as the "slave law".
Tabled by policymakers from Mr Orban's right-wing Fidesz party, the draft bill seeks a large hike in maximum annual overtime hours that employers can demand, as well as the time period for calculating overtime payments.
Members of trade unions and their supporters gathered under grey winter skies and marched waving banners saying "we protest against the slave law" and "force your mother to do overtime".
Some protesters among a crowd that numbered at least 5,000 according to an AFP photographer, wore fluorescent yellow vests in an echo of protests in France.
Representatives of most Hungarian opposition parties also took part in the march.
The government has argued that the change would benefit those wanting to earn more money by working more hours.
But the demonstration organiser, the Hungarian Trade Union Confederation (MASZSZ), has demanded the scrapping of the bill.
In a prior statement MASZSZ leader Laszlo Kordas said the law "attacked a wide strata of society".
"Workers would be obliged to do 50 days overtime work a year," if the proposed limit increase in the current 250 hours to 400 hours is adopted, he said.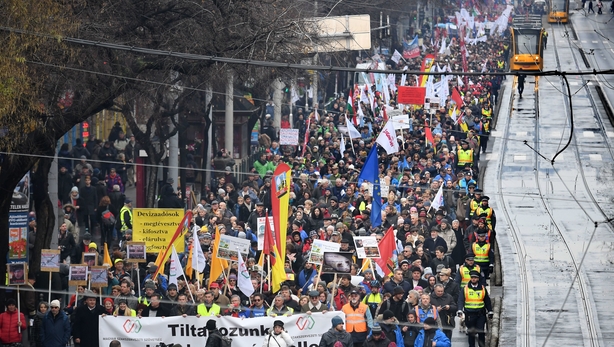 The modification to the labour code submitted to Parliament this week has faced intense criticism, sparking what is the biggest street protest in over a year in the country.
Potentially, it could add two extra hours to an average work day, or the equivalent of an extra workday per week.
Police blocked off the main square outside Parliament, where the protest was headed originally, forcing the march to loop around the central Budapest area and fill Constitution Road, the main street leading up to Parliament.
According to the bill posted on Parliament's website, employers are guaranteed an extra 250 hours of overtime per worker per year.
For the rest, they would have to seek employees' agreement.
Lajos Kosa, the Fidesz lawmaker who was the original author of the changes, told Parliament this week that the Hungarian work week will continue to consist of five eight-hour days as a rule, stressing that employees will get paid for any overtime.
He added that the weekly ceiling including extra overtime will be 48 hours of work
Critics have also speculated that German automotive giants, a key part of the Hungarian economy, have lobbied Budapest to loosen overtime restrictions due to increasing labour shortages in the country.
The German-Hungarian Chamber of Industry and Commerce has denied that any German firms have sought the modifications.
The Hungarian parliament is scheduled to vote on the bill on Tuesday.