British cabinet minister Amber Rudd has voiced support for a Norway-style model as an alternative to UK Prime Minister Theresa May's Brexit deal if the Withdrawal Agreement is thrown out by MPs.
Amid widespread speculation the deal will fail to clear the Commons on Tuesday, the Work and Pensions Secretary is the first cabinet minister to publicly discuss the merits of a "Plan B".
And in a further apparent departure from Downing Street's official stance, Ms Rudd would not rule out a second referendum and suggested she would back remaining in the EU if one was held.
The minister made the comments in an interview with The Times as cabinet colleagues cast out across the UK on a drive to promote Mrs May's controversial deal.
Ms Rudd said she remained in support of Mrs May's Withdrawal Agreement and took aim at "indulgent" critics of the deal - including those who "think they are standing on principles but they're not getting things done".
However, she revealed that should the deal be voted down, she would prefer a so-called Norway Plus model for Brexit that would involve staying part of the European Economic Area.
The former home secretary said the alternative "seems plausible not just in terms of the country but in terms of where the MPs are," but conceded that "nobody knows if it can be done".
On the subject of a second referendum, Ms Rudd said she "can't understand the hysteria around a People's Vote if you believe in what you are trying to propose".
However the minister said she would "much rather do the withdrawal agreement and deliver on the outcome".
Meanwhile, pro-EU politicians as well as a number of celebrities will take part in a rally tomorrow ahead of Tuesday's crunch Commons vote on the Brexit deal.
Actors Charles Dance, Jason Isaacs, Eddie Marsan and comedian Matt Forde will appear at the event in London's ExCel centre alongside politicians including former deputy prime minister Michael Heseltine and Liberal Democrat leader Vince Cable.
Other speakers at the Best for Britain rally include Tory former ministers Philip Lee and Anna Soubry, Green MP Caroline Lucas, Plaid Cymru leader Adam Price and Labour MPs Luciana Berger and Mary Creagh.
Ms Lucas said: "Forty-eight hours from the most momentous vote in modern times, parliamentarians must listen to their constituents, local businesses and their own consciences and vote down this bad deal.
"This deal is bad for Britain, bad for future generations. It will turn back the clock and wind up the drawbridge. It will do nothing to tackle the grotesque inequality which contributed to the vote to leave.
"Brexit has been a national nightmare and it is time to end it. On Tuesday we must stand up, be counted, vote down this bad Brexit deal, and give the people the final say on what happens next."
---
Brexit: How the backstop has brought the UK to boiling point
---
Mrs May was warned today that she could be forced to stand down as Prime Minister if her Brexit deal is defeated in the Commons next week.
Eurosceptic former party leader Iain Duncan Smith cautioned against Mrs May and her cabinet deciding to "brazen it out", saying such an approach would be a "disaster".
"How the PM responds after the vote matters more than anything else she has done," he told the Daily Telegraph.
"I believe that if the response is, 'we've lost but we will do this all over again' it will become a leadership issue."
The paper reported Cabinet ministers have also warned Mrs May she would have to stand down if the deal is defeated and she fails to secure better terms from the European Union.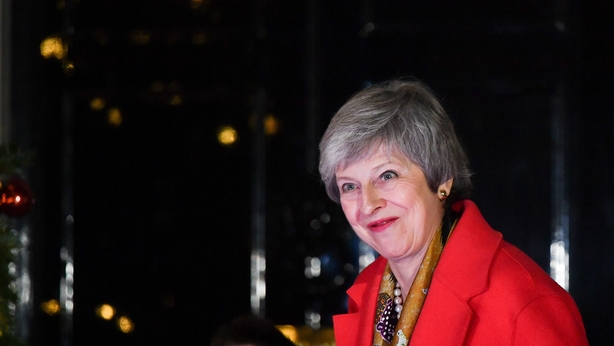 It came as Labour leader Jeremy Corbyn said he would consider delaying Britain's exit from the EU to negotiate a better deal if his party came to power.
"If we go into government straight away we would start negotiating straight away. If it meant holding things a bit longer to do it, of course," he told Sky News.
Mr Corbyn said his party was ready to "step in and negotiate" with the EU, and would form a minority government "if that is what is on offer".
Yesterday, a British government assessment warned a no-deal Brexit could lead to six months of chaos on key cross-Channel routes, with ferries between Dover and Calais and traffic using the Channel Tunnel facing disruption until the end of September 2019.
A letter sent by Health Secretary Matt Hancock to the pharmaceutical industry and NHS said: "The revised cross-government planning assumptions show that there will be significantly reduced access across the short straits, for up to six months.
"This is very much a worst-case scenario; however, as a responsible government, we have a duty to plan for all scenarios."
Ministers are drawing up plans to fly in vital drugs and give priority to lorries carrying medical supplies at gridlocked ports.
Kent Council's leader Paul Carter called for emergency measures to prevent lorries entering the county to avoid chaos on the roads.
"We now need far more input and information from national government in how they are going to work with us," he said.
With the Commons vote on Mrs May's Withdrawal Agreement expected to result in it being rejected by MPs, the risk of a no-deal Brexit could increase.
Pressure is mounting on the Prime Minister to delay the December 11 vote to give herself time to ask for more concessions from the EU at a Brussels summit at the end of next week - with 29 Tories saying they will vote against the deal, Press Association analysis showed.
Liam Fox's parliamentary private secretary reportedly suggested Mrs May could also be faced with resignations by ministerial aides if she does not make last-minute changes to the deal.
Dudley South MP Mike Wood told the Guardian he had "big issues" with the Northern Ireland backstop and would resign if there were not enough "changes and reassurances" before Tuesday's vote to allow him to support her plan.