Annegret Kramp-Karrenbauer has been elected as the new leader of Germany's Christian Democrats (CDU).
Ms Kramp-Karrenbauer, known as AKK, went up against corporate lawyer Friedrich Merz and Health Minister Jens Spahn.
Mr Spahn an outspoken critic of Ms Merkel's 2015 decision to welcome more than one million asylum seekers to Germany, was also in the running but hadn't garnered strong support.
Ms Kramp-Karrenbauer is viewed as similar to Ms Merkel with an even temper and middle-of-the-road policies.
Mr Merz had become the torchbearer for those seeking a more decisive break from the chancellor and had won the backing of powerful former finance minister Wolfgang Schaeuble, now the parliamentary speaker.
We need your consent to load this rte-player contentWe use rte-player to manage extra content that can set cookies on your device and collect data about your activity. Please review their details and accept them to load the content.Manage Preferences
Earlier, German Chancellor Angela Merkel offered a staunch defence of her moderate course during 18 years as party leader.
Accepting a lengthy standing ovation from delegates, many tearful and holding "Thanks, boss" placards aloft, a visibly moved Ms Merkel said the party had won four national elections under her by holding fast to its principles.
"In difficult times we shouldn't forget our Christian and democratic stance," she said.
Pointing to the rise of populism worldwide and what she called a breakdown of shared Western values, Ms Merkel said the order she had championed was at risk.
"Whether it's the rejection of multilateralism, the return to nationalism, the reduction of international cooperation to deal-making or threatened trade wars... hybrid warfare, destablisation of societies with fake news or the future of our EU - we Christian Democrats must show in the face of all these challenges what we've got," she said.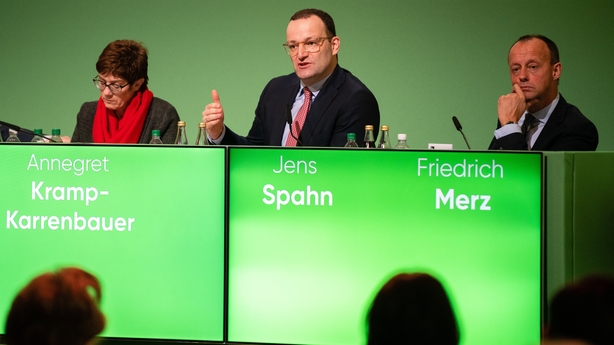 'It's been an honour': Angela Merkel bows out as CDU party leader | https://t.co/rFvikF0ccZ pic.twitter.com/4wQZqJZgJL

— RTÉ News (@rtenews) December 7, 2018
The Chancellor surprised the country and her party in late October when she announced she would not seek reelection as CDU leader at the party conference in Hamburg after a series of poll setbacks rooted in controversy over her liberal refugee policy.
Today's outcome is expected to be crucial in deciding whether the influential leader can realise her stated goal of completing her fourth term in 2021 and then leaving politics.
"I hope we emerge from this party conference well-equipped, motivated and united," Ms Merkel said.
"I am confident we will succeed."
Ms Merkel has led Germany since 2005, and moved her party steadily toward the political centre. More generous family leave, an exit from nuclear power and an end to military conscription are among her signature policies.