Spain's Prime Minister Pedro Sanchez has warned there would "very probably" be no summit to approve Britain's exit from the European Union on Sunday if the issue of Gibraltar is not resolved first.
Madrid is seeking a guaranteed veto on post-Brexit relations between the EU and Gibraltar, the British enclave on Spain's southern tip, and has threatened to scupper the draft Brexit deal if it does not get its way.
"If there's no agreement" over Gibraltar, Sanchez said at a press conference in Cuba, "there very probably won't be a European Council" summit.
Earlier on Friday, Spanish officials in Brussels said Prime Minister Sanchez might not attend the summit if London fails to put into writing a promise that no future agreement between Britain and the EU that applies to Gibraltar can be signed without first being negotiated on a bilateral basis with Spain.
That would effectively give Spain the power of veto over any future relations between the EU and the British territory.
Mr Sanchez would not confirm the threat to skip the summit but said current "guarantees are not enough and so Spain maintains its veto on the Brexit deal."
"If there's an agreement, we'll obviously go."
An original clause in the deal Britain has drawn up with the EU gave Spain its guarantees, but that has since disappeared from the final draft.
Although the legal service of the EU Council has tried to reassure Spain that the current text does not preclude this, Madrid wants that veto power clearly spelled out.
Both British and EU negotiators said that the withdrawal agreement itself would not change at this stage, but in London a spokesman for the prime minister's office had earlier said: "We will work with the governments of Gibraltar and Spain on our future relationship."
In strictly legal terms, Spain's objection would not halt the deal being endorsed on Sunday, but politically it would be a blow if a major member state like Spain prevents the EU from demonstrating consensus. 
             
And if Spain's concerns are not addressed in the months to come, then Madrid could still veto the adoption of any future relationship agreement that London and Brussels manage to negotiate after Brexit. 
             
In April 2017, when Brussels and London began the marathon task of negotiating the terms of Britain's departure under Article 50 of the EU treaty, the member states endorsed very clear guidelines.
             
"No agreement between the EU and the United Kingdom may apply to the territory of Gibraltar without the agreement between the Kingdom of Spain and the United Kingdom," it said.
             
Now, however, the formal withdrawal agreement only says that the EU and the United Kingdom "took note" of the April guidelines, where Spain's right to veto appears, in order to conclude the divorce.
             
Spain does not think that this is enough, but member states and EU officials have refused to reopen the summit texts, preferring to seek an annex that would address Spain's concerns.
Mr Sanchez said that following a conversation with Mrs May on the subject, their positions remained "far away" and that if there were no changes to the draft Brexit deal, Spain would veto it.
After my conversation with Theresa May, our positions remain far away. My Government will always defend the interests of Spain. If there are no changes, we will veto Brexit.

— Pedro Sánchez (@sanchezcastejon) November 22, 2018
Earlier, Tánaiste and Minister for Foreign Affairs Simon Coveney said he believes the concerns of the Spanish government can be met by providing a statement of clarification, rather than changing the text of the withdrawal agreement.
He said he became aware of Spanish concerns on Monday last when they were raised by the Spanish minister at a meeting in Brussels.
Mr Coveney said there was a very strong consensus among other EU foreign ministers that the Spanish concerns be met, but that it should not mean a change to the withdrawal treaty text.
May's Brexit deal 'worse than staying in EU' 
Britain's former Brexit secretary Dominic Raab has said Mrs Theresa May's EU withdrawal proposals are worse than staying in the EU.
Asked if the deal was worse than remaining in the bloc, Mr Raab told BBC Radio 4's Today programme: "I'm not going to advocate staying in the EU.
"But, if you just presented me terms, this deal or EU membership, because we would effectively be bound by the same rules but without the control or voice over them, yes, I think this would be even worse than that."
Mr Raab said the current agreement was unlikely to be passed by the Commons, and that ministers should contemplate leaving without one, saying: "We will, I think, inevitably see Parliament vote this deal down.
"And then I think some of those other alternatives will need to come into play."
Education Secretary Damian Hinds said he believed support for the Prime Minister's Brexit deal would grow in Parliament as MPs considered the alternatives.
Speaking on the same programme, he said: "The deal that we have on the table is a strong deal. It is a good, balanced deal.
"As people reflect on what the alternatives are, I think people are going to come to see this is a very good deal for Britain.
"If we weren't to pass this deal, I think it becomes rather unpredictable what happens next. There is a risk on the one hand beyond that of no Brexit at all - and there are people trying to thwart Brexit - and there is also a risk of no deal.
"Neither of those two things are attractive. This is why I believe this deal, which is a strong deal, will gain more and more traction."
Mrs May is expected to return to Brussels tomorrow for further meetings with Mr Juncker.
She has told UK MPs that talks are now at a critical point.
The scale of the task ahead of her convincing them to vote for the deal she wants was made clear after almost three hours of debate in the House of Commons in London last night.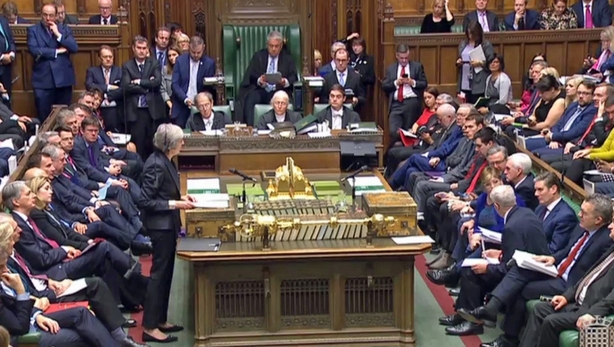 She faced criticism from her own Conservative party, the opposition - and the DUP, on whose support in parliament her government relies.
Many are unhappy with a deal which they believe has the potential to leave the UK linked to the EU but without a say in its rules.
Downing Street has said the prime minister believes she can win a vote on the subject at Westminster in the coming weeks.