Levels of heat trapping greenhouse gases in the atmosphere have reached another record high according to the World Meteorological Organisation.
The intergovernmental organisation said there is no sign of a reversal in the trend, which is driving long-term climate change, sea level rise, ocean acidification and more extreme weather.
Globally, average concentrations of greenhouse gases have reached 405.5 parts per million in 2017, up from 403.3ppm in 2016 and 400.1ppm in 2015.
According to the WMO, there has been a 41% increase in the warming effect on the planet from long-lived greenhouse gases since 1990.
We need your consent to load this rte-player contentWe use rte-player to manage extra content that can set cookies on your device and collect data about your activity. Please review their details and accept them to load the content.Manage Preferences
The organisation said that the science is clear and that without rapid cuts in emissions of carbon dioxide and other greenhouse gases, climate change will have increasingly destructive and irreversible impacts on life on Earth.
WMO Secretary-General Petteri Taalas said the window of opportunity is almost closed and that the last time the Earth experienced a comparable concentration of CO2 was up to five million years ago when temperatures were 2-3C degrees warmer and sea level was 10 to 20 meters higher than now.
Carbon Dioxide remains in the atmosphere for hundreds of years and in oceans for even longer and the WMO said there is currently no magic wand to remove all the excess greenhouse gases from the atmosphere.
WMO Deputy Secretary-General Elena Manaenkova said: "Every fraction of a degree of global warming matters, and so does every part per million of greenhouse gases."
World leaders address first virtual climate summit
The first virtual climate summit of world leaders is under way, held entirely online to ensure it is carbon neutral.
Today's eco-friendly event stands in stark contrast to many other international summits, which involve thousands of delegates jetting across the world to a venue where they stay in air-conditioned comfort.
Organisers of the UN's COP21 climate talks in Paris in 2015 estimated it generated 43,000 tonnes of carbon dioxide, although much of this was later offset through carbon-credit schemes.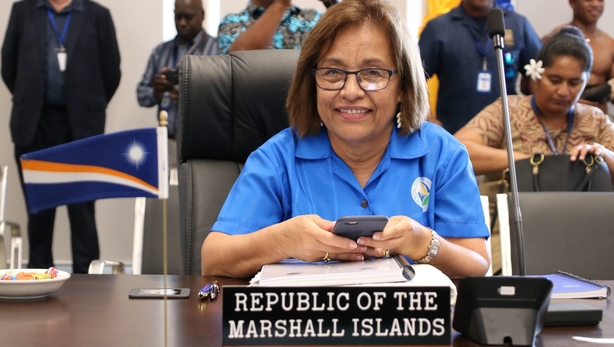 The summit is the brainchild of President of the Marshall Islands Hilda Heine, whose nation will drown beneath the rising waters of the Pacific Ocean if global warming continues unabated.
She said the cutting-edge setup was designed to show that even small nations such as the Marshalls could make a big difference on the world stage using creative, climate-friendly solutions.
The online summit consists of a rolling, 24-hour livestream that will hear addresses from world leaders including French President Emmanuel Macron and Candian Prime Minister Justin Trudeau before organisers issue a declaration early tomorrow.
UN Secretary-General Antonio Guterres has told the conference the world is not moving fast enough to curb global warming and immediate action is needed to address the issue.
Mr Guterres issued the call to arms ahead of next month's COP24 climate talks in the southern Polish city of Katowice, which will attempt to revive a global climate deal reached in Paris in 2015.
He urged world leaders to limit global warming to 1.5 degrees above pre-industrial levels and praised the online summit as an example of the innovative thinking needed to combat climate change.
"We need more such creativity to transform our economy and limit global warming to as close to 1.5C as possible," he said.
"Climate change is moving faster than we are and we cannot afford any more delays. The world counts on all nations to ensure that next month's climate conference in Poland is a success."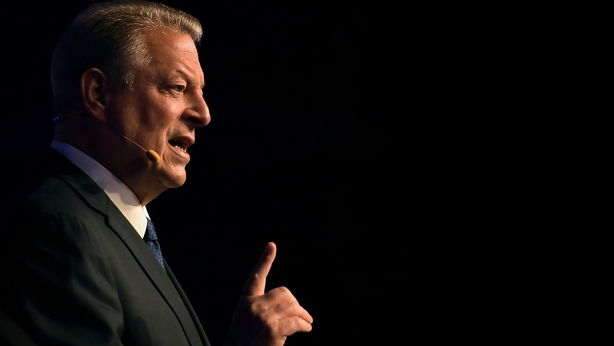 Former US vice president Al Gore said the way humanity was treating the planet was "unimaginable".
"We're still pouring 110 million tonnes of global warming pollution into the atmosphere around our planet like it's an open sewer," the Nobel laureate said.
"All of the extra energy trapped by man-made global warming pollution... is now equal to the amount of heat energy that would be released from 500,000 Hiroshima-class atomic bombs exploding on Earth every single day."
UN General Assembly president María Fernanda Espinosa had her own bleak statistics, telling the online gathering that carbon dioxide levels were now the highest in 800,000 years.
She also pointed out that 17 of the 18 hottest years on record had occurred since 2001 and that the cost of climate-related disasters in 2017 topped $500 billion.
Yet Ms Espinosa said it was not too late to act.
"When numbers such as these cause us to panic, there are other reasons to be encouraged," she said.
"My message today is not one of dismay but one of hope - that we can come together as a global community and work as one to protect and heal our planet and preserve it for future generations."
Additional reporting: AFP