Rescue teams sifted through burned homes and vehicles for the remains of victims in the northern California town of Paradise, as the number of those missing in the state's deadliest wildfire spiked to 630 people.
At least 63 people were killed in and around Paradise, which was virtually incinerated by the Camp Fire, a blaze that erupted on 8 November in the Sierra foothills, 280km north of San Francisco.
The fire is among the deadliest to have hit the United States over the last century.
Authorities attribute the death toll partly to the speed with which flames raced through the town of 27,000, driven by wind and fuelled by desiccated scrub and trees.
---
In Pictures: Devastation in Paradise
---
Butte County Sheriff Kory Honea said the remains of seven further victims had been located since Wednesday's tally of 56.
The number of missing jumped to 630 people from 130 the previous night.
Many of those initially reported as missing have been found alive, so Sheriff Honea emphasised that the list of missing would fluctuate as new people were reported missing or others turned up safe.
Paradise resident Wayne Williamson lost his home, car and belongings in the fire and is now looking for his brother Ronald Crawford, who has not been heard from since before the fire.
"He hasn't showed up yet and I think he would by now," Mr Williamson told KRCR TV.
"It's getting to the point where I am going to have to reach out and ask for help."
Many of those listed as missing are over the age of 65.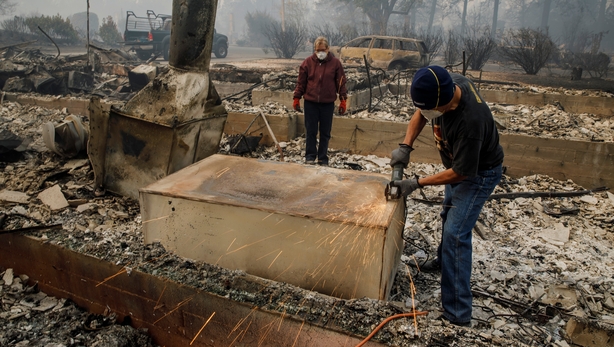 Local officials and estate agents have sold Paradise as an ideal place to retire.
Relatives of retired US Navy veteran David Marbury, 66, are waiting to hear from him.
No one has managed to speak with him since the wildfire began, and relatives' phone calls have gone directly to his voicemail.
Mr Marbury moved to Paradise a few years ago because he liked to be by himself, relatives said.
His landlord confirmed to relatives that his duplex in Paradise had burned down.
Sheriffs' officials told them his car was still in the garage.
"I really hope he's still alive and were going to be able to see him," his niece said.
"We just hope that he's still with us."
Nearly 12,000 homes and buildings burned hours after the blaze broke out, the California Department of Forestry and Fire Protection (Cal Fire) said.
Thousands of additional structures remain threatened as firefighters, many from distant states, work to contain and suppress the flames.
Sheriff Honea has asked relatives of the missing to submit DNA samples to hasten identification of the dead. But he said some of those unaccounted for may never be identified.
With many victims likely burned beyond recognition, traditional DNA analysis techniques are inadequate.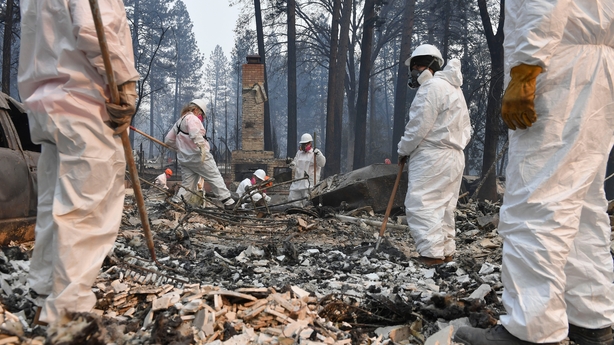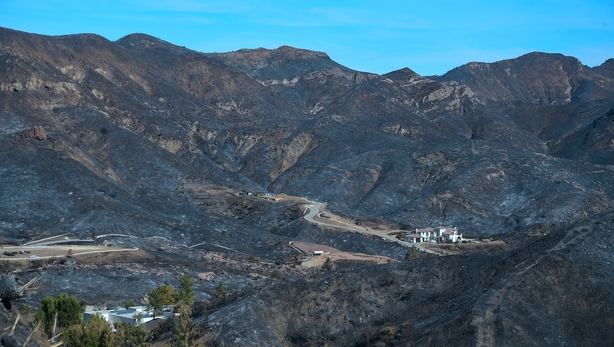 As a consequence, the sheriff's office hired a company specialising in a technique primarily employed in war zones and crime scenes to generate results.
There have been other smaller blazes in southern California, including the Woolsey Fire, which is linked to three fatalities and has destroyed at least 500 structures near the Malibu coast west of Los Angeles.
Scientists say two seasons of devastating wildfires in California are ascribable to drought that is symptomatic of climate change.
Two electric utilities say they sustained equipment problems close to the origins of the blazes around the time they were reported.
US President Donald Trump is due to visit the fire zones tomorrow to meet displaced residents.
Critics say he politicised the fires by blaming them, without supporting evidence, on forest mismanagement by California, a largely Democratic state.
Cal Fire said 40% of the Camp Fire's perimeter was contained, up from 35%, even as the blaze footprint grew 2,000 acres to 141,000 acres (57,000 hectares). The Woolsey fire was 57% contained.
Smoke from the Camp Fire has spread far and wide.
Public schools in Sacramento 150km to the south, and as far away as San Francisco and Oakland, cancelled classes because of poor air quality.
Many of those who survived the flames but lost homes stayed with friends or relatives or at American Red Cross shelters.