Australian police have said a Somali man who stabbed three people, killing one, in Melbourne drove a car laden with gas cylinders which caught fire.
Police said they were treating the attack as terrorism.
The so-called Islamic State group claimed that one of its members carried out the attack, but it provided no evidence for the claim.
The attacker was shot by police and later died in hospital, Victoria Police Commissioner Graham Ashton told reporters.
"We don't believe there is an ongoing threat at this stage, but certainly we are treating it as a terrorism incident," Mr Ashton said.
He declined to identify the attacker, but said he was Somali with "family associations that are well known to us".
Several bystanders and police officers were attacked by the man on central Melbourne's Bourke Street.
Mobile phone footage posted on social media showed a man lunging at police officers with a knife as a car was engulfed in flames nearby.
After taking several swings at one of the officers, the attacker was shot in the chest.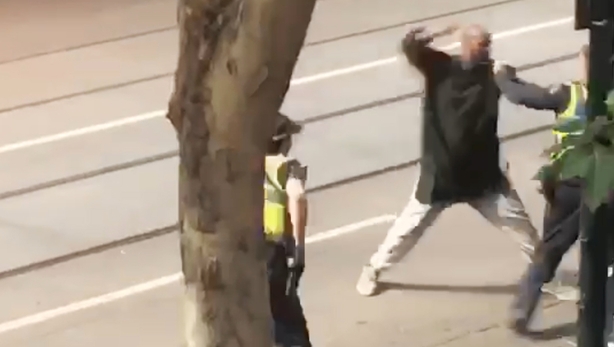 Police said gas cylinders were found in the man's vehicle, which had been set alight.
Officers had initially responded to a report of a car on fire on the popular shopping street at 4.20pm local time (5.20am Irish time).
Superintendent David Clayton told a press conference at the scene: "Nearby police quickly responded to the incident. As they got out of the car they were confronted by a male brandishing a knife and threatening them.
"At the same time passers-by were calling out that members of the public had been stabbed. Police shot the male in the chest and he is now in a critical condition under guard at hospital.
"Three people have been stabbed. Unfortunately one is deceased at the scene. Two other victims are currently in hospital."
Police said the victims appeared to have been stabbed in the upper body.
In one video posted on Twitter the man can be seen repeatedly lashing out at two officers, apparently with a knife.
Two people, apparently members of the public - one with a shopping trolley - then come to the officers' aid.
After the attacker makes several attempts to strike one of the officers, the second officer appears to draw a gun before a single shot rings out.
The suspect can then be seen falling backwards on to the ground.