Compulsory Purchase Order notifications have been sent to around 500 landowners in Galway as plans to construct a ring road of the city advance.
Galway County Council has submitted an Environmental Impact Assessment Report and a Natura Impact Statement to An Bord Pleanalá in what is the first official step in seeking approval for the development.
The Government sanctioned funding for the plans earlier this month. Submissions on the proposals can be made to the board until 21 December.
Galway County Council said the planned road would take a significant volume of traffic out of the city and allow for an enhanced bus network on existing roads.
However, there has been criticism of the plan, given the need to reduce carbon emissions. Opponents argue that building roads will only add to the problems in this regard.
The preferred corridor does not impact on habitats that are protected under EU law.
It is expected that the formal application to the planning board will be followed by an oral hearing at some stage in 2019.
The N6 Galway Ring Road project envisages the construction of an 18km route, running from the east side of the city to a location close to the village of Bearna.
Around 40 properties along the so-called preferred corridor will be subject to compulsory purchase orders, should the road be approved.
---
Read more
---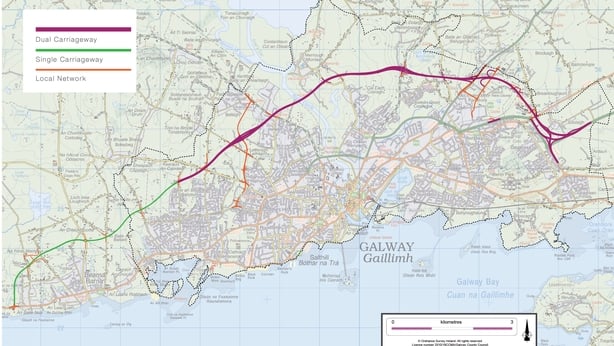 The ring road would commence with a new interchange at the end of the M6 and involve a section of tunnel on the approach to Galway Racecourse.
The road would then continue westwards towards the Corrib, with a second section of tunnel en route, before crossing the river on a new bridge.
Planners hope to traverse lands at NUI Galway on a viaduct before veering towards the Bushy Park area.
A previous effort to construct a by-pass was abandoned in 2013, after rulings that it would have environmental implications.