Autism charity AsIAm has called on the Government to help bring about a more inclusive society for people living with Autism.
The autism advocacy and charity organisation, which is hosting its annual conference in Malahide, believes a better understanding of autism amongst employers, educators and society as a whole, could make the world of difference.
The charity is calling for a national strategy to help bring about a new inclusive society.
It says 80% of people with autism are unemployed or under-employed.
"86% of autistic people now attend mainstream school. Where I think there's still a significant body of work still to be done however is to mainstream the understanding, knowledge and support for autistic people in the community," said AsIAm CEO Adam Harris.
Mr Harris has called for an end to access barriers, adding that autistic people face barriers in terms of communication, predictability, judgement and in how the sensory environment works.
He also said that upwards of half of autistic people, who are adults, can be afraid to leave their own home.
Mr Harris believes a better understanding of autism, across society, could help open up the world to people living with Autism.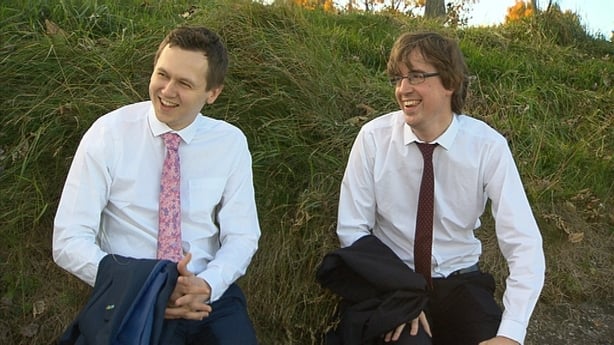 Among the attendees at today's conference was 28-year-old Brian Irwin, who was diagnosed with autism when he was 22.
He said he feels his late diagnosis made school more difficult than it needed to be.
"School was a round hole, in which I would not fit as a square peg," he said.
He added: "I had a lot of trouble with the sensory environment of school.
"Trying to get from class to class on time, in very tight corridors that are full of students who are making a lot of noise and things like PE classes where I have to deal with the gym room and all the various smells and exertions - those things are very difficult".
As Brian was only diagnosed with Autism at the age of 22, he did not have much support in place at college at that time.
It took him six years to complete what would usually have be a four-year course.
He said finding work after graduating was not easy.
He managed to secure two interviews and is now working in a receptionist's office, "which isn't exactly what my degree was about, but it's the best I've got at the moment. Trying to find a job when you're autistic is a new challenge because you interact and you transmit information in unusual ways".
When asked what would make the work environment a bit easier Brian believes allowing for employees, who have autism, to work in a quiet space would be of great help.
Also among the attendees was Chris Varney, who has Asperger's and is the founder of the 'I CAN' network in Australia.
He told the conference that employers stand to benefit by improving their knowledge of Autism.
"Every workplace needs an autistic person," he said.
He added: "People with Autism are blessed with technical ability in all sorts of different areas. That skill-set can manifest itself in music, in technology, IT, accounting".