Tánaiste and Minister for Foreign Affairs Simon Coveney has said Fine Gael would like to see the talks with Fianna Fáil on reaching a new Confidence and Supply Agreement completed within a month.
Mr Coveney said that while there are no preconditions to the negotiations, he would like to try to get it concluded in a month or so, to have "a short but credible review and then to move to see if we can establish the basis for a future agreement for the next couple of years."
Mr Coveney, a member of the Fine Gael negotiating team, said the party will conduct the talks "with honesty and respect."
He said the two parties will be talking about the "kind of political priorities that we think the country needs to prioritise for the coming months and years."
The Tánaiste also said Fine Gael wanted to see what he described as "another period of stable Government, where we take on some big responsibilities for the country."
Mr Coveney said the priorities include Brexit and continued sustainable economic growth and development, while he said "housing and health are two big pressure points where we want to continue to make progress."
He said that negotiating will "continue probably for some time" and he said "there will be an opportunity to go back to discuss priorities, ideas and investment proposals with individual ministers."
He added that Fine Gael would like to set a date for a future general election "to put that issue to bed."
He said Taoiseach Leo Varadkar "has made it clear that he would like to make that in the early summer of 2020, so that then we could focus on the priorities of running the country with the basic support of Fianna Fáil, on key issues like budgets and motions of confidence."
Mr Coveney also said his party wanted the negotiations to begin in mid-summer, adding "Fianna Fáil didn't want to do that for whatever reason, but we are now going to get them underway next week."
Fine Gael earlier confirmed its team for the Confidence and Supply Agreement talks.
It will consist of Mr Coveney, Paschal Donohoe, Regina Doherty and Deputy Martin Heydon.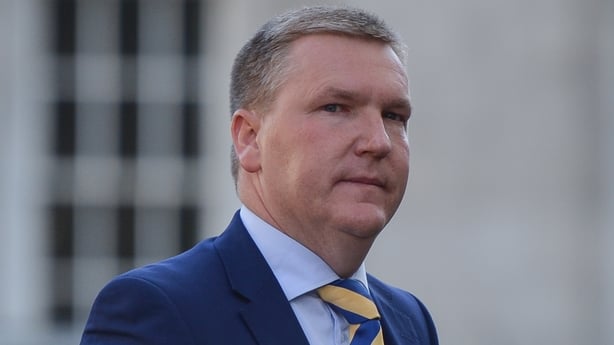 Fianna Fáil's finance spokesperson Michael McGrath has said the party "will not be setting a deadline and will not be rushed" in the Confidence and Supply Agreement talks.
Mr McGrath said that his party expects Fine Gael to "give the process the time it needs and deserves."
He said Fianna Fáil will not be entering the talks with preconditions but he said there needs to be "a thorough and really comprehensive review" of what he described as an historic agreement, because he said "some areas have not delivered especially in housing and health."
Mr McGrath accused the Government of not tackling the two issues in a meaningful way.
He said Fianna Fáil will "have to consider and ultimately come to a judgement as a party, as to whether or not we believe it's in the country's interest to extend the agreement and for how long."
He also said Fianna Fáil believes there should be no election "until the issue of Brexit is resolved from the Irish perspective."
Discussions between Fianna Fáil and Fine Gael to review the agreement will begin next week.
Fianna Fáil has yet to confirm its full negotiating team, but deputy party leader Dara Calleary and Mr McGrath are expected to be involved.
The outcome of the talks will determine whether or not there will be a general election or if the current Government will stay in place for one more budget.
Additional reporting: Ailbhe Connelly