National Slow Down day, an operation aimed at getting motorists to watch their speed on roads, got under way this morning.
The 24-hour operation came into force at 7am and will continue until 7am tomorrow.
It consists of high visibility speed enforcement in over 1,000 enforcement zones, as well as the delivery of a road safety message through the use of national, local and social media.
Since 7am, gardaí and GoSafe vans checked the speed of 105,567 vehicles, 133 of which were found to be speeding.
Speaking on RTÉ's Morning Ireland, Chief Supt Finbarr Murphy said that the gardaí are calling on drivers to slow down by 5-10km/h to help reduce injuries and deaths on the roads.
The objective of the operation is to reduce the number of speed-related collisions, save lives and reduce injuries on roads.
Gardaí say the aim is to remind drivers of the dangers of speeding, increase compliance with speed limits and act as a deterrent to driving at excessive or inappropriate speed.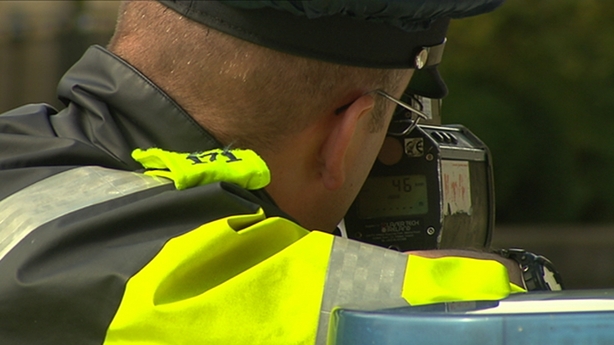 Gardaí and the RSA say that a 1% reduction in average speed will bring about a 4% reduction in fatal collisions.
From 1 January to 31 August this year, there have been more than 85,457 speeding detections.
Some of today's notable speeding violations include:
82km/h in a 50km/h zone on the N63 Moylough More, Moylough, Galway
94km/h in a 60km/h zone on the N11 Stillorgan Road, Stillorgan, Dublin
104km/h in a 80km/h zone on the R148 Moyvally, Broadford, Kildare
128km/h in a 100km/h zone on the N20 Kilmona Grenagh, Cork
134km/h in a 120km/h zone on the M9 Woodlands East, Castledermot, Kildare
Chief Executive of the Road Safety Authority Moyagh Murdock urged all drivers to support the initiative by easing off their accelerator.
"Inappropriate speed is a factor in a third of fatal crashes each year and those most at risk from speeding are vulnerable road users like pedestrians and cyclists," she said. 
She added: "Initiatives such as this are very important as we head into the winter months, when the weather deteriorates and roads are more likely to be wet. 
"This means increased stopping distances when braking, so slow down and leave a greater distance between you and the vehicle in front. It's also vital that your tyres are roadworthy.
"Remember brakes stop your wheels, but it's your tyres that stop your car."
There were 157 road deaths in Ireland in 2017.
As of 15 October this year, there have been 117 road fatalities, a reduction of three on that date last year.
Chief Supt Murphy said that the day is about making roads and communities safer.
He said when someone decides to speed they put members of their community at risk, including children, older people, cyclists and other motorists.
"Nobody has the right to do that," he said.
He added: "Please do the right thing and stick to all posted speed limits, not just on Slow Down day, but every day and if conditions dictate, reduce speed even further"