US President Donald Trump has said it "certainly looks" like US-based Saudi journalist Jamal Khashoggi is dead.
"It certainly looks that way to me," Mr Trump told reporters at Andrews Air Force Base when asked if Mr Khashoggi was dead. "It's very sad."
Mr Trump said he was waiting for details from "about three different investigations so we can get to the bottom of" Mr Khoshoggi's disappearance.
We need your consent to load this rte-player contentWe use rte-player to manage extra content that can set cookies on your device and collect data about your activity. Please review their details and accept them to load the content.Manage Preferences
Asked what the consequences would be if Saudi leaders were linked to his disappearance, Mr Trump said: "Well, it'll have to be very severe. I mean, it's bad, bad stuff, but we'll see what happens."
Turkish sources have told Reuters the authorities have an audio recording indicating Mr Khashoggi was killed.
The Saudis have strongly denied the allegations but US media outlets have reported they will acknowledge he was killed in a botched interrogation.
Mr Trump has speculated without providing evidence that "rogue killers" could be responsible.
'Certainly looks' like Saudi journalist Jamal Khashoggi is dead – Trump | https://t.co/CkB8NBNTJ8 pic.twitter.com/Wkj0JYcBXT

— RTÉ News (@rtenews) October 18, 2018
Meanwhile, Turkish police are searching a forest on the outskirts of Istanbul and a city near the Sea of Marmara for remains of Mr Khashoggi.
Senior Turkish officials have told Reuters that investigators have also recovered "many samples" from their searches of the consulate and the consul's residence.
Investigators will now attempt to analyse those for traces of the DNA of Mr Khashoggi.
The Washington Post published the last column it received from Mr Khashoggi before he went missing in Istanbul on 2 October.
The newspaper's editors said they had held off publishing it in the hope that Mr Khashoggi would re-emerge.
In the column, he writes of the importance of a free press in the Arab world, which he says "is facing its own version of an Iron Curtain, imposed not by external actors but through domestic forces vying for power".
"The Arab world needs a modern version of the old transnational media so citizens can be informed about global events. More important, we need to provide a platform for Arab voices," Mr Khashoggi writes.
"Through the creation of an independent international forum, isolated from the influence of nationalist governments spreading hate through propaganda, ordinary people in the Arab world would be able to address the structural problems their societies face."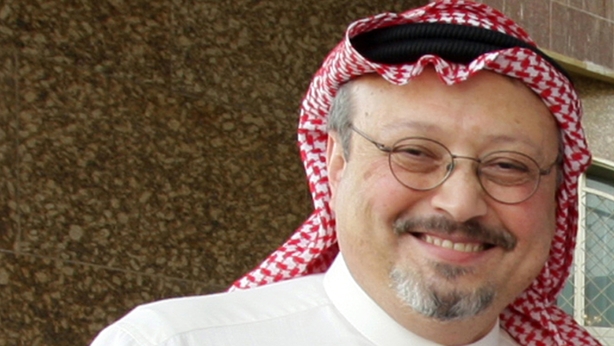 The ultimate fate of Mr Khashoggi, whose writings have been critical of powerful Saudi Crown Prince Mohammed bin Salman, is still unknown, but leaks by anonymous Turkish officials have painted a picture of him allegedly meeting a grisly end in the consulate at the hands of Saudi agents.
Saudi Arabia has denied to the United States having knowledge of what happened at the consulate.
Mr Trump has denied covering up for ally Saudi Arabia in the suspected murder of Mr Khashoggi, saying that he should know what happened to the Saudi journalist within days.
In the introduction to Mr Khashoggi's column, which was accompanied by a photo of the Post's Global Opinions editor Karen Attiah said the newspaper held off on publishing it in the hopes that he would return.
"Now I have to accept: That is not going to happen. This is the last piece of his I will edit for The Post," Ms Attiah wrote.
"This column perfectly captures his commitment and passion for freedom in the Arab world. A freedom he apparently gave his life for."
Foreign governments withdraw from Saudi investment conference
The UK's International Development Secretary Liam Fox has withdrawn from an international investment conference in Saudi Arabia amid concerns over the disappearance of Mr Khashoggi.
A British government spokesman said Dr Fox had decided the "time is not right" for him to attend the Future Investment Initiative in Riyadh later this month.
"The UK remains very concerned about Jamal Khashoggi's disappearance," the spokesman said.
The UK government spokesman said: "We encourage Turkish-Saudi collaboration and look forward to the Kingdom of Saudi Arabia conducting a thorough, credible, transparent and prompt investigation, as announced.
"Those bearing responsibility for his disappearance must be held to account."
Dr Fox joins French Economy Minister Bruno Le Maire and Dutch Finance Minister Wopke Hoekstra in pulling out of the 23-25 October conference, which is dubbed the 'Davos in the Desert'.
US Treasury Secretary Steven Mnuchin has said he will decide today whether to attend.
Several business leaders and Western media groups have already pulled out of the conference organised by Saudi Arabia's sovereign wealth fund.