A support group set up for the women and families affected by the CervicalCheck crisis is meeting for the first time today.
The 221 women and families affected have gathered for the event at Farmleigh in Dublin.
The support group was founded by campaigners Vicky Phelan and Stephen Teap.
It will be overseen by a management committee which includes patient representatives, currently Ms Phelan, Mr Teap and Lorraine Walsh, each of whom has been impacted by the crisis.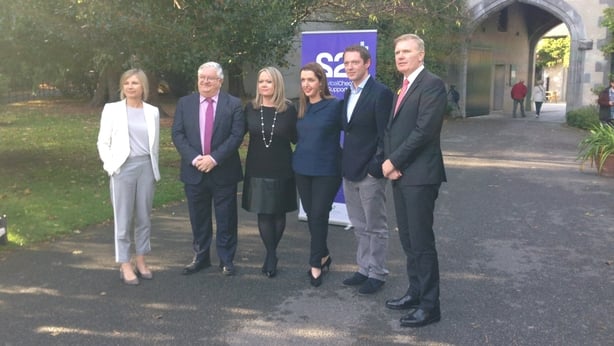 The meeting is the first opportunity for the women and the families of those who have died to gather together.
They will be given information, advice and support on a wide range of specialist areas such as fertility, information on clinical drugs and new treatment options, bereavement and legal advice.
A major review instigated by the Government into the care of the 221 women affected is ongoing.
The support group will be funded by the Department of Health for three years but it says its work will be completely independent.
A new website www.221plus.ie will be made available to those affected.
It will contain a private portal where those affected can ask questions in confidence.
Vicky Phelan says the #CervicalCheck issue is a 'debacle' at the launch of the 221+ CervicalCheck Patient Support Group today pic.twitter.com/84Ka6xaY3X

— Fergal Bowers (@FergalBowers) October 14, 2018
Lorraine Walsh has told the gathering that only "around 50" women and their families have consented to taking part in a major review of smear tests.
She said as a result she is not sure what answers it will bring.
Lorraine Walsh has told a gathering of a new support group for women with cervical cancer that "around 50" of the 221 women and their families have consented to taking part in a major review into the care of the affected women. @rtenews

— Sinéad Hussey (@SineadHus) October 14, 2018
Ms Walsh also said that the review by the Royal College of Obstetricians and Gynecologists in the UK of about 1,850 Women's smear tests has not started yet.
She said it won't be completed until about April of next year.