At least 300,000 homes are without power after tropical storm Leslie hit Portugal's Atlantic coast, bringing with it heavy rain, strong winds and surging seas.
Leslie was downgraded from a hurricane before it reached Portugal late on Saturday.
Authorities had urged people to stay indoors and keep away from coastal areas.
No deaths have been reported.
At least 1,000 trees were uprooted, mainly in coastal towns north of Lisbon where the storm first reached land, hitting power lines and blocking roads.
The A1, the main motorway running through Portugal, was temporarily blocked by a fallen tree, authorities said.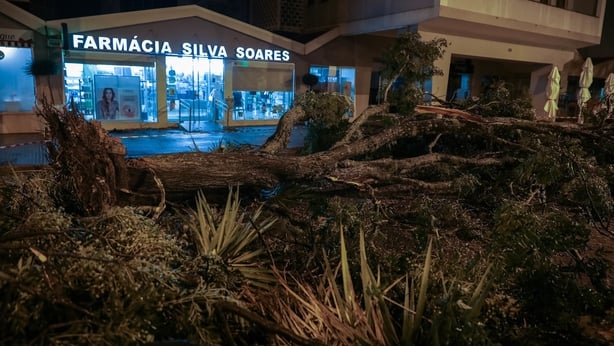 More than 300,000 homes lost electricity as the storm passed, said Belo Costa, commander at the Civil Protection Agency.
The storm, carrying winds of up 130km/h, was most intense during the night.
By Sunday morning the powerful winds and heavy rains had mostly subsided.
The storm was one of the most powerful to ever hit the country.
The Dublin Airport Authority has said no Irish flights have been cancelled or delayed to or from Portugal.
Leslie is now over northern Spain, and emergency services warned of the possibility of flash floods and urged to motorists to be vigilant in case of strong winds.
Separate storm fronts in the north and east of Spain mean heavy rain is expected across much of the country.
It comes on the back of heavy rain hitting Mallorca on Tuesday, sending torrents of brown water along narrow streets in the town of Sant Llorenc.