The Taoiseach has said he will make the National Broadband Plan a personal crusade, following the resignation of Minister for Communications Denis Naughten. 
Asked by reporters in Cavan about discrepancies between Mr Naughten's version of events around his disclosure of meetings with US businessman David McCourt, Leo Varadkar said Mr Naughten "changed his story on a number of occasions". 
Mr McCourt's firm, Granahan McCourt, is part of a consortium bidding for the State broadband contract.
Mr Varadkar said that if he had taken up Mr Naughten's suggestion that he continue in the department in some capacity, questions would be asked of him today. 
We need your consent to load this rte-player contentWe use rte-player to manage extra content that can set cookies on your device and collect data about your activity. Please review their details and accept them to load the content.Manage Preferences
He said the Government is committed to the broadband plan adding, "I promise I'll make it happen" and said it will be a "personal crusade".
The Taoiseach will announce the appointment to the role of Minister for Communications, Climate Action and the Environment later today.
He will have to seek confirmation of the appointment from the Cabinet on Tuesday. 
However, he said he would make his intentions known publicly today, when he has had a chance to make a number of calls.
In the Dáil yesterday, Mr Varadkar outlined interactions between Mr Naughten and Mr McCourt.
Mr Varadkar said he was informed late Tuesday night by Mr Naughten of a private dinner he had attended at Mr McCourt's home in 2017.
This dinner was organised by Minister for State Pat Breen, who was also at the dinner.
Yesterday, Mr Naughten told Mr Varadkar that he had had at least three further private dinners with Mr McCourt. No officials were present and no minutes of the meetings were taken.
Mr Varadkar also informed the Dáil that he had met Mr McCourt last March in the US at a public event but the broadband plan was not discussed.
---
Read more:
Naughten resigns over private dinners with broadband bidder
Where now for National Broadband Plan following shock resignation
---
It is understood that the terms of reference and timeframe of a review of the NBP process being carried out by independent auditor Peter Smyth at the Taoiseach's behest will be finalised early next week in consultation with Mr Smyth.
Earlier, Tánaiste Simon Coveney said the Taoiseach will act quickly to "steady the ship" in the aftermath of Mr Naughten's resignation.
Speaking in Galway, Mr Coveney said Mr Naughten had left himself open to very difficult questioning and that the had to act to protect the integrity of the National Broadband Plan.
Mr Coveney said Mr Varadkar had acted appropriately in the timing and manner of his actions.
He had made difficult decisions which had consequences for Mr Naughten but these were in the interests of the country, Mr Coveney added.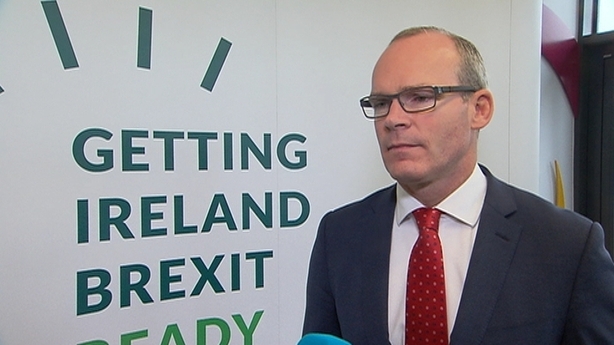 Mr Coveney said the Government did not want a general election at this time and instead wanted to extend the Confidence and Supply Agreement with Fianna Fáil. He said he felt with goodwill on both sides this could be achieved.
He said there was a need to end uncertainty and get on with the job of running the country.
Meanwhile, the Chief Executive of the telecoms firm Eir has said the Government has to be honest about the challenges of delivering broadband to all parts of the country.
Carolan Lennon said the sparse population spread across much of rural Ireland meant it would be particularly difficult to bring fibre connections to all homes. 
Ms Lennon said there was no commercial case that could be put forward for doing this. 
She said there needed to be an acceptance that full fibre connectivity would be expensive and would take "quite a long time".
While around 80% of homes could be connected in a reasonable time frame, the last 20% would pose significant challenges.
Ms Lennon said she hoped the Government could deliver on its aim but she said there needed to be honesty about the challenges. 
She suggested this might involve looking at the time frame involved and using different solutions to bring connectivity to those areas that would be hard to reach with fibre lines. 
She said it was important that any review of the NBP came up with a plan that "we all believe is deliverable".
Ms Lennon said Eir had pulled out of the plan earlier this year because the process was hugely complicated and the company could not make a commercial return on it.
But she said the firm's infrastructure would be made available to the successful bidder.