Search and rescue teams are combing through shattered US communities looking for victims of Hurricane Michael,which carved out a swathe of destruction in the Florida Panhandle, killing at least six in three states.
In Mexico Beach, a seafront town where the hurricane made landfall, houses had been destroyed by the storm surge, boats had been tossed into gardens and the streets were littered with trees and power lines.
Florida Governor Rick Scott said the storm had caused "unbelievable devastation" and the priority for the moment was looking for survivors among residents who failed to heed orders to evacuate.
"I'm very concerned about our citizens that didn't evacuate and I just hope that, you know, we don't have much loss of life," Mr Scott said.
The US Army said more than 2,000 Florida National Guard soldiers were working on the recovery operations.
There have been six confirmed storm-related deaths so far - four in Florida's Gadsden County, one in Georgia, and one in North Carolina.
US President Donald Trump has pledged to help storm victims.
"Our hearts are with the thousands who have sustained property damage, in many cases entirely wiped out," Mr Trump said. "We will not rest or waver until the job is done and the recovery is complete."
Officials said more than 400,000 homes and businesses were without electricity in Florida and Governor Scott said nearly 20,000 utility workers had been deployed to restore power.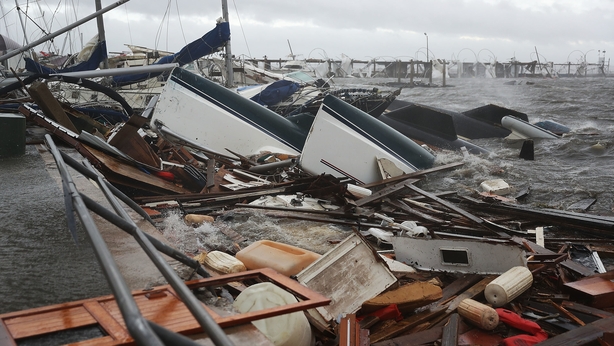 Hurricane Michael made landfall on Wednesday afternoon as a Category 4 storm, the most powerful to hit Florida's northwestern Panhandle in more than a century.
It has since been downgraded to a tropical storm as it moves through the Carolinas, which are still recovering from last month's Hurricane Florence.
Mexico Beach suffered massive destruction from the 250km/h winds and several metres of storm surge.
Home after home was lifted from its foundations in the town of around 1,000 people, leaving just bare concrete slabs. Others were missing roofs or walls. Roads were impassable and canals were choked with debris.
Federal Emergency Management Agency chief Brock Long said Michael was the most intense hurricane to strike the Florida Panhandle since record keeping began in 1851.
Mr Long said many Florida buildings were not built to withstand a storm above the strength of a Category 3 hurricane on the five-level Saffir-Simpson Hurricane Wind Scale.