RTÉ's This Week programme sent a questionnaire to all six candidates contesting the 2018 Presidential election campaign, with the aim of securing an insight into what approaches the candidates were adopting.
Under legislation, there is a spending cap of €750,000 - after that it is up to the candidates. 
---
Our first question focused on how much they expected to spend on their campaign - between now and the third week in October. 
Michael D Higgins said he expected to spend €394,000, while Gavin Duffy was the next highest, at €300,000. 
Liadh Ní Riada said she expected to spend between €250,000 and €300,000, while Joan Freeman estimated she would spend €250,000 on her campaign.
The remaining two candidates, Peter Casey and Sean Gallagher, did not give an estimate of what they might spend. 
However, Mr Casey said he will spend "as much as it takes to get elected but I won't go over the cap". 
Mr Gallagher said it was "hard to put a figure at the moment" on the total amount he would spend, but also said he would not "come close" to the spending cap.
---
Anyone can have a spending target – it is quite another thing to actually raise the funds. So we asked the candidates how much they raised for their war chest at this point in the race. 
With a political party behind her, it is probably not a surprise that Ms Ní Riada said she would raise around €215,000 - of an estimated total spend of up to €300,000.
Ms Freeman is also at an advanced stage, saying she has already raised €150,000 of her anticipated spending total of €250,000.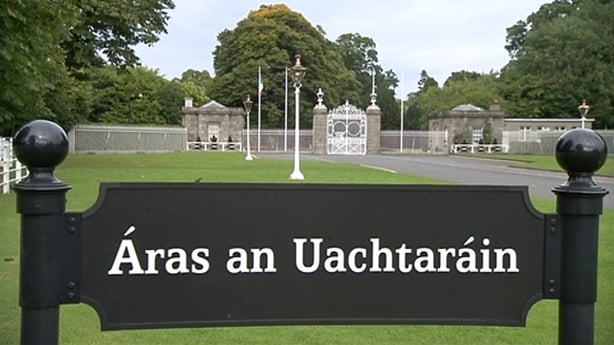 Mr Casey said he was not in the process of raising money as such, as all of his funds were coming from his own savings. 
Michael D Higgins did not give a figure but said he has risen "very little" so far. 
Both Mr Gallagher and Mr Duffy said it was too early to say how much they have risen. 
---
Campaign strategies can vary widely. So we asked the candidates for a breakdown of how they intend on spending their money. And we secured some interesting answers. 
Michael D Higgins said he would be spending around €130,000 on paid advertising, which included posters, press advertising and local radio ads.
He said he will spend around €50,000 on canvassing with merchandising and leaflets around the country. He also said he would spend another €40,000 campaigning via social media - with a further €50,000 for supporting key events. So that's €270,000 of his estimated €394,000 spend. 
Mr Casey did not give a total spend. Yet in his breakdown, he said he would spend at least €30,000 on wages for his team, €10,000 on social media, €25,000 on strategic advertising, and another €25,000 on miscellaneous costs.
Ms Ní Riada said she did not have final figures on what might be spent on specific categories, but she said they expected to spend at least €90,000 on posters. 
Joan Freeman did not give a specific breakdown of anticipated spending. Neither did Gavin Duffy or Sean Gallagher.
However all three said they will not be having a poster campaign - an interesting decision, given posters have been a cornerstone of so many political campaigns. 
---
Another question put to the candidates was where they were getting their money from. 
Liadh Ní Riada said Sinn Féin had arranged a bank loan of €200,000 and the rest will be raised from donations and general fundraising.
Michael D Higgins said he would be funding his campaign "primarily from small individual donations." He added that he would also be contributing a significant sum from his personal savings - to the tune of €110,000. 
Peter Casey said he would be using his own money, entirely, to fund his campaign - so all from savings in effect.Gavin Duffy said he was funding his campaign from some fundraising and from his own resources.
Joan Freeman says she is funding her campaign with "two loans and donations from the general public" - and some of that is already in the public domain.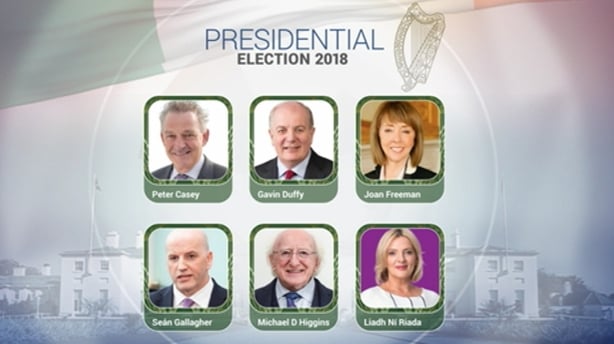 Sean Gallagher said his funding would include a mixture of personal funding and donations.
When it came to personal savings, Ms Ní Riada and Ms Freeman both said none of their funding will come from personal financial savings, while Mr Casey said 100% of his campaign was coming from personal savings.
As mentioned earlier, Michael D Higgins is putting around €110,000 of his own savings into the campaign fund - which is just under one-third of what expects to spend.
Gavin Duffy said he could not say how much of his funding would come from his own savings as yet, while Sean Gallagher did not say how much of his campaign would come from his own savings.
---
The question of corporate donations can be controversial. So we asked if the candidates expected to secure money from this source - or were actively seeking it. 
Joan Freeman said she expected "little to none" of her campaign funding will come from corporate donors. 
Four of the other candidates - Gavin Duffy, Michael D Higgins, Liadh Ní Riada and Peter Casey - explicitly said none of their funds would be coming from corporate donors. 
Sean Gallagher's reply was that he would be providing this and all other relevant information to the Standards in Public Office after the campaign. 
---
Whether the candidates were securing financial assistance from political parties was another focus of the This Week team. Candidates were asked whether they received either cash or any benefit in kind. 
Michael D Higgins is a former Labour Minister, TD and activist. He said that one Labour party staff member was working on behalf of his campaign.
However he said that any expenditure on party campaign activity will be counted as campaign spending for SIPO purposes and he would be declaring that after the campaign. He also said he would not be accepting any financial donations from any party.
Sinn Féin MEP Liadh Ní Riada pointed out that her party had raised a €200,000 bank loan for her campaign. 
The remaining four candidates said they did not expect to receive any assistance from any political party.
---
Finally, we asked the candidates if they expected to borrow money to fund their campaign. 
Gavin Duffy said that "no campaign funds" have been raised through borrowing. He went on to say that although he had received a loan offer he is not going to draw down the loan.
Four of the other candidates gave a direct answer and said they do not expect to personally borrow any money. These were Michael D Higgins, Peter Casey, Sean Gallagher and Liadh Ní Riada.
Only Joan Freeman said she would be borrowing money to fund her campaign.
She's answered questions about this already. She's already said she borrowed €120,000 from businessman Des Walsh and €10,000 from another businessman, Michael Madden, both repayable at 9 percent over 5 years.
On the same theme, we also asked the candidates if they had borrowed money, what if any asset was this loan secured against? The question ultimately only applied to Joan Freeman, and she said that the money she had borrowed was not secured against any asset.