Bags of unwashed spinach have been recalled from leading supermarkets amid a warning over Listeria and anyone who bought them has been advised to throw them out.
The Food Safety Authority of Ireland said the recall includes bags of unwashed spinach leaves and mixed leaves containing spinach.
The packets were on sale in Dunnes, Tesco, Aldi, Lidl and Supervalu and were also supplied to a number of catering firms.
The FSAI said the recall follows the detection of Listeria monocytogenes in a batch of spinach leaves.
Listeria can cause flu-like symptoms and is particularly dangerous to pregnant women, unborn babies and people with underlying health issues.
The FSAI said it was not aware of anyone becoming ill, but said anyone experiencing symptoms should contact their GP.
In a statement, the FSAI said: "The products identified in the tables with a code of 260 or 261 are implicated. Retailers are advising customers to dispose of the packs. Some spinach products distributed to caterers are also implicated."
The spinach was distributed through stores under different brand names in 75g, 100g, 250g, 500g and 1kg packs.
The products all have best before dates ranging from 22-26 September and include Oaklands baby leaf spinach sold in Lidl, baby spinach leaves sold in Aldi, Dunnes Stores own brand spinach and McCormack Loose and Lively spinach leaves and mixed leaves.
FSAI Chief Executive Dr Pamela Byrne said listeria contamination leaves was found during a routine sampling of a ready-to-eat product.
Dr Byrne told RTÉ's News at One that the recall was put in place after the bug was found in a product that did not require re-heating or cooking.
She stressed that washing the leaves was not sufficient to rid the dangers of the bug and the leaves should be thrown out.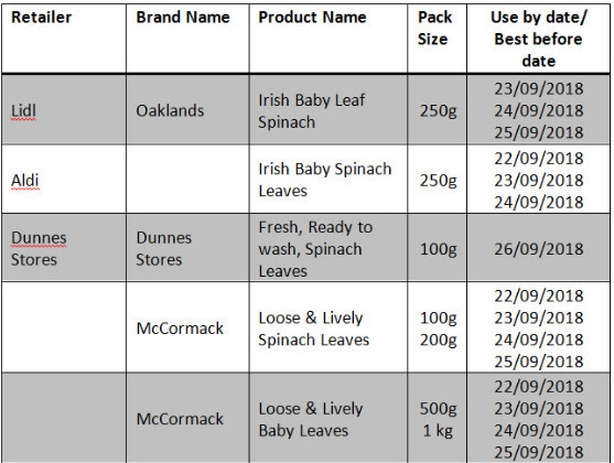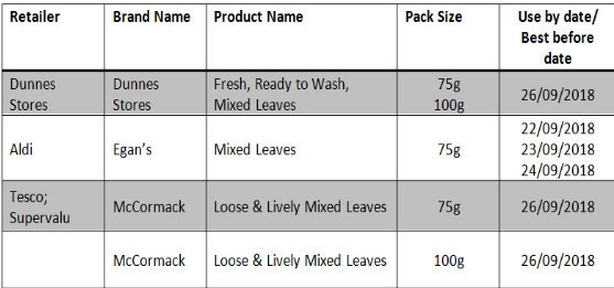 FSAI Chief Executive Dr Pamela Byrne said the listeria contamination was found during a routine sampling.
Speaking on RTÉ's News at One, she said that washing the leaves is not enough to destroy the bug and they should be disposed of.