Minister for Housing Eoghan Murphy has told the Oireachtas Committee on Housing he does not think the homeless crisis has peaked.
Responding to Solidarity-People Before Profit TD Mick Barry, he said he could not say when it would peak.
"I can tell you we are in the middle of a very serious crisis. I can tell you that it is linked fundamentally to a lack of houses being built, but I can also tell you the building of new homes is ramping up very dramatically,"
But he added that presentations of families would continue, despite a small fall in the August figures.
WATCH: @MurphyEoghan tells Oireachtas Housing Committee that he does not think the homeless crisis has peaked, responding to @MickBarryTD pic.twitter.com/AwTRNZ5FGX

— RTÉ Politics (@rtepolitics) September 27, 2018
He acknowledged the difficulties were linked to issues in the private residential sector, and short-term lets, but said it was also linked to fundamental things like supply.
Mr Murphy told the committee that the total number of people in emergency accommodation in August was 9,527.
He said the number of new presentations was 238 - a reduction on the July figure.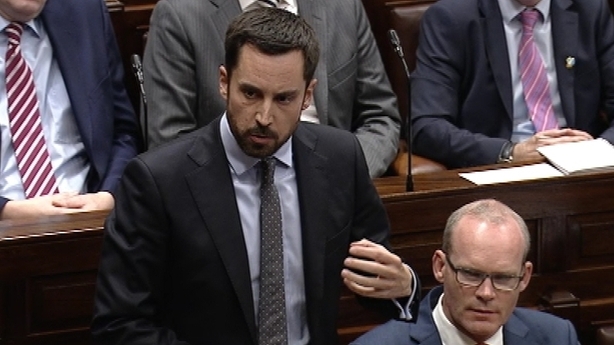 Mr Murphy said the focus was on protecting people in existing emergency accommodation in the run up to the Papal visit.
He added that a 're-categorisation survey' over the past four months identified 741 people that were being classified as in emergency accommodation when it should not have been.
Mr Murphy said this figure has been removed from the total number in emergency accommodation, but at various points, so it is not clear how many has come out of the August figure.
He said the department continues to struggle to get accurate data each month, and they have asked the CSO to assist them in the preparation of the figures on a monthly basis.
He told the committee that he was tired of the blame for the figures being passed between local authorities and his department. He said there is blame to be shared around.
We need your consent to load this rte-player contentWe use rte-player to manage extra content that can set cookies on your device and collect data about your activity. Please review their details and accept them to load the content.Manage Preferences
Mr Murphy said: "I have sat in local authority chambers where local authority members have told me that a project has been with my department for four, six, eight months, and we haven't got it back yet and when I have asked my officials we have only got in a week before.
He added: "I am tired of this buck passing between my department and local authorities back and forth. It is not necessary."
He said the programme of targets for local authorities was to achieve transparency.
On the rental sector, Minister Murphy said new legislation will strengthen the Residential Tenancies Board, particularly with regard to enforcement.
He said the RTB would also be empowered to investigate any contravention of Rent Pressure Zones (RPZs).
He also said the bill was a complex one which he hoped to bring to government shortly, following consultation with the Attorney General.
Minister Murphy acknowledged to the committee that there was a difficulty with qualifying criteria for RPZs.
He said the Residential Tenancies Board had raised this in relation to cities such as Limerick where there has been a "massive increase in rent".
He acknowledged that because rents in Dublin continue to increase, places like Limerick are not going to hit the average to qualify as a RPZ.
He said "I have heard that from the RTB that the qualifying criteria as established in legislation is not helping cities like Limerick that are seeing expedential rent increases."
Mr Murphy said he was considering a second rent bill to address more complicated issues.
Sinn Féin's housing spokesman, Eoin Ó Broin, asked the minister to clarify if the reduction of 270 adults and children in the August homeless figures could have been as a result of changes in how the figures have been compiled.
"Is it fair to assume that there is a possibility that some of those, it's not that they have exited homelessness, but they have been recategorised under the change of your counting?" he asked.
"People will see those figures published today. If that was just a straight reduction and those people are now in full-time tenancies that's good news. But if people have been recategorised but they are not in permanent tenancies, that is something different," he added.
Mr Murphy said that figure has been removed from the total number in emergency accommodation, but at various points so it is not clear how many has come out of the August figure.
Responding to Mr Ó Broin, Mr Murphy said the overall people in emergency accommodation is lower that was thought it was because "a significant number of people were actually in homes and not in emergency accommodation".
Cabinet to consider apartment restrictions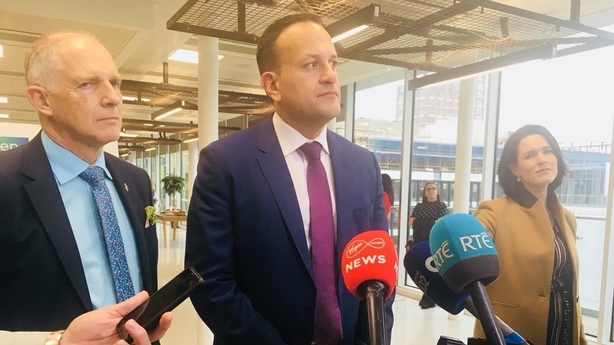 A memo will go before Cabinet in a number of weeks seeking to restrict the use of apartments and homes in rent pressure zones, according to Taoiseach Leo Varadkar.
Speaking to the media at the Open Doors initiative this afternoon, Mr Varadkar said the proposal will mean house and apartment owners would not be able to rent their houses or apartments on a long-term basis on Airbnb.
He said they should be released into the market for people who live in Ireland.
Pressed for further detail on the matter, Mr Varadkar said he had only been briefed verbally and the Minister for Housing would have more detail in time.
The Taoiseach also said the homeless figures dropped because of a "reclassification".
Additional reporting: Ailbhe Conneely