Minister of State for European affairs Helen McEntee has rejected the idea that the backstop has been turned into a "green or orange" issue.
It follows comments by Tanaiste Simon Coveney yesterday in which he said that Ireland cannot allow one political party in Northern Ireland - the DUP - to veto proposals on the backstop agreement.
Ms McEntee called for co-operation when it comes to dealing with such a sensitive issue.
She repeated calls to de-dramatise the backstop, saying: "take the politics out of it, take the drama out of it, take the different voices that we may be hearing separate to the UK government and the EU taskforce and try and focus on the practicalities".
Ms McEntee felt it "wasn't about either side winning or losing".
She said it was important for both sides to find common ground and work towards the best possible outcome.
Speaking on The Week in Politics, Ms McEntee said that she respects the fact that Theresa May's government do not want to break up the union by creating a border in the Irish Sea. 
We need your consent to load this rte-player contentWe use rte-player to manage extra content that can set cookies on your device and collect data about your activity. Please review their details and accept them to load the content.Manage Preferences
She said that she does not believe that the DUP has a veto on the issue.
Ms McEntee said that the Irish Government are not the ones negotiating the backstop agreement, Michel Barnier and the EU Taskforce are doing so.
She said that the Government has no intention to begin secondary discussions with the British government on the issue.
She said that Mrs May was not ambushed in Austria last Thursday, but rather the European Union once again simply reaffirmed that it was supporting the Irish position that there should not be a hard border on the island of Ireland.
She said that the 400 customs officers that will be hired in preparation for Brexit will not be stationed on a north-south border.
Ms McEntee said that the Irish Government is not preparing for a hard border.
She also said that there would be no tax price paid for the European solidarity, and she had no idea where that suggestion came from.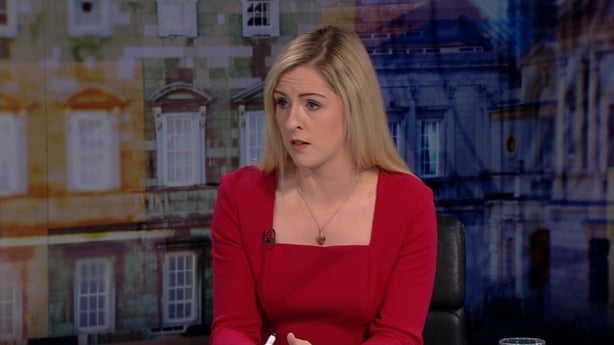 Meanwhile, Fianna Fáil Brexit spokesperson Lisa Chambers said that what happened in Salzburg on Thursday was regrettable.
Speaking on RTÉ's This Week programme, she said it was an informal meeting and a breakthrough was not expected, but that negativity was not expected either.
Ms Chambers said she believes it set back negotiations and has done nothing for relations between the UK and the European Union.
She said she believes the British public thinks that Ireland played a role in Mrs May's so-called "thrashing" as Ireland is part of the EU 27.
She also said the optics of Taoiseach Leo Varadkar strolling along with French President Emanuel Macron was not good for relations.
She said it is a shame that the focus has now seemingly shifted from the original deadline for a withdrawal agreement of October to November.