Super Typhoon Mangkhut has made landfall in China's Guangdong, the country's most populous province, after wreaking havoc in Hong Kong and Macau and killing potentially more than 50 people in the Philippines.
Packing winds of more than 200km/h, Mangkhut is considered the strongest to hit the region this year, equivalent to a maximum Category 5 "intense hurricane" in the Atlantic.
That's more powerful than the maximum sustained winds of 150km/h when Hurricane Florence roared into North Carolina in the United States on Friday.
The eye of Mangkhut, skirted 100km south of Hong Kong but the former British colony was still caught in the typhoon's swirling bands of rain and gale-force winds.
Hong Kong raised its highest No. 10 typhoon signal at mid-morning as ferocious winds uprooted trees and smashed windows in office and residential buildings, some of which swayed in the gusts, residents said.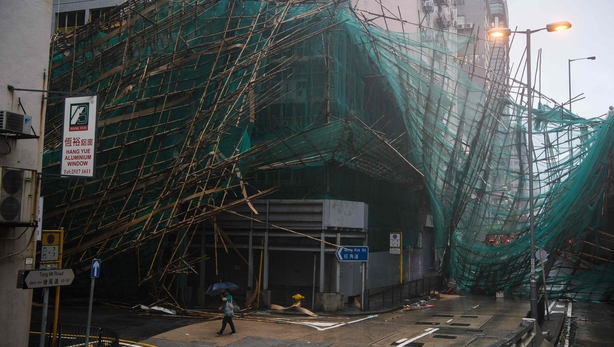 Water levels surged 3.5m in some places, waves swamped roads and washed up live fish, washing into some residential blocks and a mall in an eastern district.
The plans of tens of thousands of travellers were disrupted by flight cancellations at Hong Kong's international airport, a major regional hub.
Airlines such as flagship carrier Cathay Pacific cancelled many flights last week.
In the Philippines, casualties reported by various agencies indicate the death toll from the impact of Mangkhut could exceed 50, with most killed in landslides in or near mountainous areas of the Cordillera region.
Francis Tolentino, an advisor to President Rodrigo Duterte and head of the government's disaster coordination, said the latest number of casualties was 33 dead and 56 missing.
But the head of the military's Northern Luzon Command, Emmanuel Salamat, told Reuters that at least 19 more were killed in landslides in one part of Benguet province.
The 19 who died were part of a bigger group of 43 people, likely miners, and those who were still alive were feared to be trapped in an old mining bunkhouse that had collapsed under rubble, according to Mr Tolentino.
Search and rescue missions were ongoing, and a local mayor in Benguet, Victorio Palangdan, said he feared the number killed there could be more than 100.
Separately, the coastguard said it had recovered the bodies of three people.
We need your consent to load this rte-player contentWe use rte-player to manage extra content that can set cookies on your device and collect data about your activity. Please review their details and accept them to load the content.Manage Preferences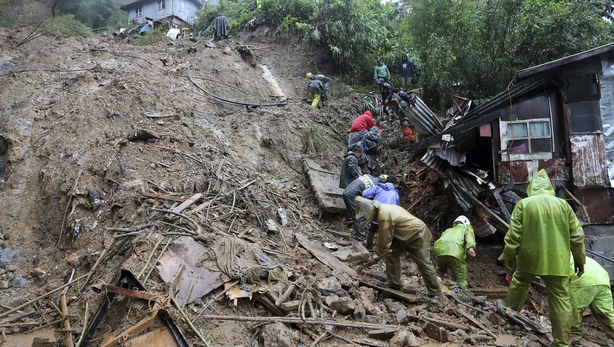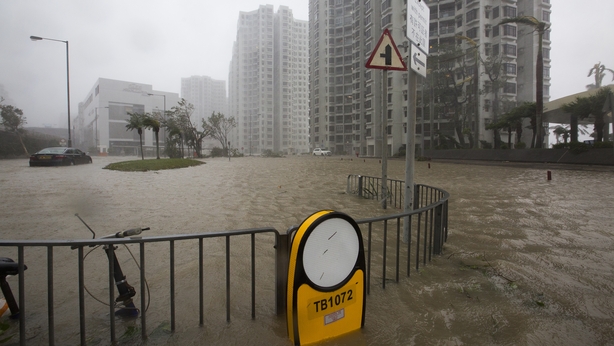 In Macau, which halted casino gambling late on Saturday and put China's People's Liberation Army on standby for disaster relief help, some streets were flooded.
"The suspension is for the safety of casino employees, visitors to the city, and residents," said authorities in the world's largest gambling hub, who faced criticism last year after a typhoon that killed nine and caused severe damage.
The typhoon, dubbed the "King of Storms" by Chinese media, made landfall in Haiyan town at 5pm local time, packing winds of more than 160km/h, weather officials said.
Ports, oil refineries and industrial plants in the area have been shut.
Power to some areas was also reduced as a precaution. In Shenzhen, electricity supply to more than 130,000 homes was cut at one point.
Guangdong is China's most populous province, with a population of more than 100 million.
No deaths have been reported so far.
More than 2.45 million people have been relocated and over 48,000 fishing boats called back to port in the province. Work at more than 29,000 construction sites has been suspended.
State television showed scenes of crashing waves, inundated streets and trees half-bent by the strong winds as Mangkhut unleashed its power.
The Shenzhen airport, shut since midnight, will be closed until 8am on Monday.
Flights have also been cancelled in Guangzhou and the island of Hainan, China's southernmost province.
High winds and swells also hit Fujian province north of Guangdong, shutting ports, suspending ferry services and cancelling more than 100 flights.
Waves as high as 7.m were sighted in the Taiwan Strait, the official Xinhua news agency reported.
Travelling at 30km/h, Mangkhut will continue on its northwesterly track, bringing heavy rain and winds to the autonomous region of Guangxi early on Monday.
It is expected to weaken into a tropical depression when it reaches southwestern Yunnan province the early hours of Tuesday.