At least 14 people, including two rescuers, are reported to have been killed in weather-related conditions caused by Typhoon Mangkhut in the Philippines.
Mangkhut ripped through the northern tip of the Philippines packing winds of more than 200km/h along with torrential rain, causing floods, landslides and power outages.
Images showed the aftermath of Typhoon Mungkhut - floods, damaged crops and collapsed structures with thousands of people having been evacuated to temporary shelters.
Known locally as Ompong, Typhoon Mangkhut at one point had maximum gusts of 305km/h before it left the land area and moved towards southern China and Vietnam with reduced wind speeds of 170km/h.
Disaster authorities have yet to complete damage assessments from Mangkhut, the 15th and most powerful storm to hit the Philippines this year, which had maximum gusts of 305km/h, and was expected to clear land after 10am local time on its way towards southern China and Vietnam.
"Almost all of the buildings here have been damaged, the roofs were blown away," said Rogelio Sending, a government official in Tuguegarao, the capital of Cagayan.
"There has been no electricity supply ... communications were also down.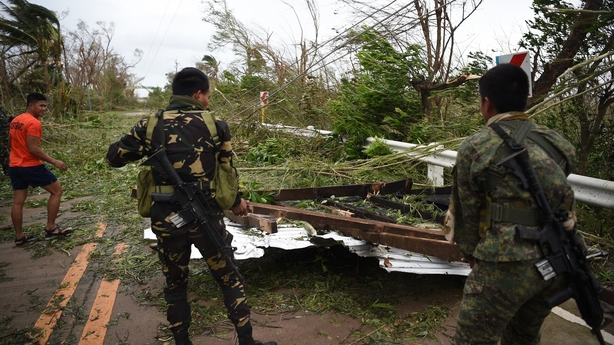 "We've received reports that many trees were uprooted and electric posts toppled and are blocking the roads. This makes the clearing operations really difficult."
Tens of thousands of people were evacuated from coastal areas following warnings of possible storm surges of 3-6m.
Widespread damage has been reported, with extensive flooding, roofs being torn from buildings, and over 42 landslides being triggered.
Television footage and videos posted on social media showed bursts of rain, trees thrashed by winds, shop signs torn down and metal sheets peeled off roofs.
We need your consent to load this rte-player contentWe use rte-player to manage extra content that can set cookies on your device and collect data about your activity. Please review their details and accept them to load the content.Manage Preferences

Authorities said some people had opted to stay home and ride out the storm to protect their property. 
Mangkhut has a diameter of about 900km and gathered pace as it reached the Philippines, but has since slowed, with wind speeds falling to 180km/h.
Mangkhut caused blackouts and left hundreds homeless when it earlier struck US Pacific territories in Micronesia.
Philippine authorities have said they are better prepared than in 2013, when Typhoon Haiyan devastated central areas of the country and killed 6,300 people.
The typhoon is now moving west towards China.