The United Nations' Secretary-General has appealed to Russia, Iran and Turkey to "spare no effort to find solutions that protect civilians" in Syria's Idlib.
Antonio Guterres said it was "absolutely essential" that a full-scale battle was avoided in the northern region.
"This would unleash a humanitarian nightmare unlike any seen in the blood-soaked Syrian conflict," he told reporters.
His comments follow those of Turkey's President, Recep Tayyip Erdogan, who warned that a Syrian government offensive in the region would cause humanitarian and security risks for Turkey, Europe and beyond.
In an article in today's Wall Street Journal, he calls on the international community to take action, and warns that "the entire world stands to pay the price" otherwise.
"All members of the international community must understand their responsibilities as the assault on Idlib looms. The consequences of inaction are immense," Mr Erdogan said.
He added that Russia and Iran were also responsible for stopping a humanitarian disaster in Idlib, and said the international community had to "throw its weight behind a political solution".
Idlib is the insurgents' only remaining major stronghold and a government offensive could be the war's last decisive battle.
It has been the target in recent days of artillery bombing by the regime forces of President Bashar al-Assad, as well as Russian airstrikes.
Yesterday, the UN warned that a large-scale military operation against Idlib could create "the worst humanitarian catastrophe with the biggest loss of life in the 21st century".
Violence has displaced 30,000 people in Idlib and the adjacent province of Hama this month alone.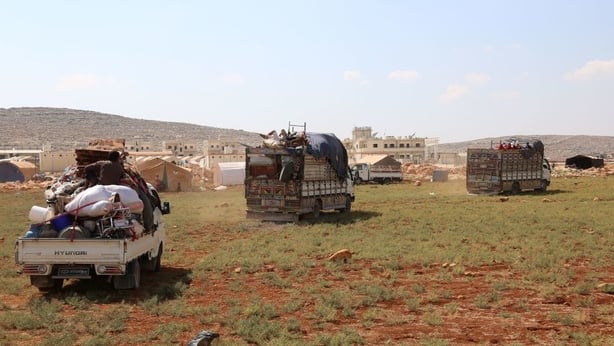 Idlib is home to some three million people, about half of them displaced by fighting in other parts of the country, according to the UN.
Turkey, fearing an influx of refugees in the event of a major assault, has repeatedly warned against a "massacre" in this last stronghold of the Syrian opposition.
On Friday at a summit in Tehran, the presidents of Russia, Iran and Turkey could not agree on staving off military action in the province.
Syria has been ravaged since 2011 by a complex civil war, implicating many foreign powers, that has claimed more than 350,000 lives to date.