New Australian Prime Minister Scott Morrison promised generational change in the warring Liberal party, seeking to end an internecine battle that has scarred the conservative government ahead of an election due by May 2019.
Mr Morrison, who was treasurer under outgoing prime minister Malcolm Turnbull, emerged the surprise winner in a three-way challenge for the leadership of the Liberal party brought on by a right-wing rival this week.
Stepping up to become Australia's sixth prime minister in less than ten years, Mr Morrison has inherited leadership of a coalition between the Liberal and National parties whose one-seat majority will have to be defended when a by-election is held for a safe Sydney seat that Mr Turnbull is set to vacate.
"Our job ... as we take forward this mantle of leadership as a new generation, is to ensure that we not only bring our party back together, which has been bruised and battered this week, but that ... we bring the parliament back together," Mr Morrison said in his first appearance after his party-room victory.
We need your consent to load this rte-player contentWe use rte-player to manage extra content that can set cookies on your device and collect data about your activity. Please review their details and accept them to load the content.Manage Preferences
"The new generation of Liberal leadership is on your side", he told Australian voters, many of whom are angry and frustrated with a decade of political instability in which no sitting prime minister has lasted a full term.
Mr Morrison ruled out calling a general election in the near term but will still face an early electoral test, as Mr Turnbull is set to resign from parliament, forcing a by-election in a Sydney seat that has been a safe seat for the Liberals.
---
Read more:
'Stop the boats' Morrison: Australia's latest PM 
Australian PM threatens to quit politics amid leadership crisis
Australian PM faces second potential leadership challenge
Australian PM Turnbull survives leadership challenge
---
Mr Turnbull blamed his demise on "vengeance, personal ambition, factional feuding" in his party, led by conservative MPs including former prime minister Tony Abbott, the man he toppled in a party-room coup in September 2015.
"Australians will be dumbstruck and so appalled at the conduct of the past week," said Mr Turnbull.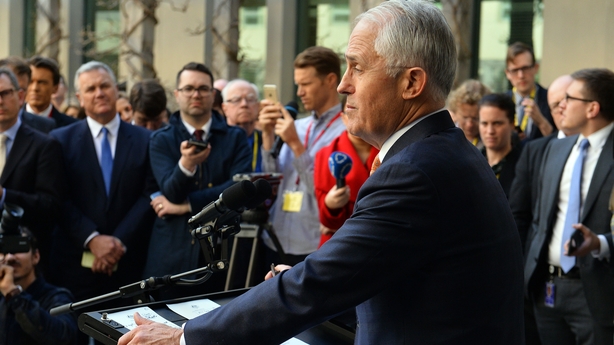 Liberal party member Warren Enserch said after the leadership vote: "This revolving door of prime ministers has got to stop".
The Liberal party is the senior partner in the Liberal-National coalition government that has consistently trailed opposition Labor in opinion polls in recent months.
Mr Morrison's victory marks the chance for a break from a decade of leadership clashes between Turnbull and Abbott in both government and opposition, but ideological divisions in the party over issues such as climate change, energy policy, immigration and even globalisation remain stark.
Indeed, after Foreign Minister Julie Bishop was eliminated after the first round of the leadership ballot, Mr Morrison only defeated Peter Dutton, his more conservative rival, by 45 votes to 40.
Three changed votes would have altered the result.
Mr Dutton was at the centre of the political turmoil this week. Seeking to head off his push for the top job, Turnbull unexpectedly called a leadership vote at a Liberal party meeting on Tuesday and won 48 to 35.
The victory margin was seen as unconvincing and Mr Dutton and his influential supporters regrouped and pressed for a second vote, and seemed to be building momentum.
Mr Morrison emerged yesterday as a candidate and quickly won favour with moderates.
While originally from the conservative wing of the Liberal party, he is widely seen as a centrist and has rejected prominent right-wing policies, including limits on immigration.
"He is the compromise candidate, a bridge between the conservative and moderate wings of the party," said Haydon Manning, a political science professor at Flinders University in South Australia state.
"He can heal the wounds that threatened to fracture the coalition government and allow the government time to prepare for an election," he said.
But Mr Morrison faces a series of policy decisions that could reopen old wounds within the government, including an impasse on energy, a topic that acted as a catalyst in Mr Turnbull's demise.
Mr Turnbull this week sought to placate conservative anger by stripping requirements for reducing greenhouse emissions from his centre piece energy policy but the influential right-wing government MPs remain opposed to the policy.
Mr Morrison will therefore need to find a way to meet Australia's commitment to reduce emissions by 26 percent from 2005 levels by 2030 under the Paris accord without stoking old divisions, a challenge Mr Turnbull said would be difficult.
"The truth is that the coalition finds it very hard to get agreement on anything to do with emissions," he said.
Mr Morrison's victory was welcomed by financial markets, which have been shaken by the political instability.
Australian shares edged higher, rebounding after three days of losses that saw the benchmark fall 1.5% percent.