Former CIA directors and another half dozen of America's most senior spies have issued an unprecedented condemnation of US President Donald Trump, after his decision to blacklist their colleague John Brennan.
In a statement, ex-CIA bosses appointed by Republican and Democratic presidents - including Robert Gates, George Tenet, Porter Goss, Leon Panetta and David Petraeus - denounced Mr Trump's decision to strip Mr Brennan of his security clearance.
Dozens of other former spies signaled their support for the statement.
"The president's action regarding John Brennan and the threats of similar action against other former officials has nothing to do with who should and should not hold security clearances - and everything to do with an attempt to stifle free speech," the statement read.
Describing Mr Trump's move as "inappropriate and deeply regrettable," they insisted "we have never before seen the approval or removal of security clearances used as a political tool, as was done in this case."
Two of those who signed the statement - former director of national intelligence James Clapper and former CIA director Michael Hayden - are, according to Mr Trump, on a list of people who could lose their clearance.
Former officials often retain security clearance after leaving office to allow their successors to consult them on issues of the day.
The White House said Mr Brennan - a notable Trump critic - had been stripped of clearance due to his "erratic" behavior.
But in an interview with The Wall Street Journal, Mr Trump admitted his decision on Mr Brennan's clearance was linked to the ongoing federal probe into possible collusion between his campaign and Russia to influence the 2016 election.
"I call it the rigged witch hunt, (it) is a sham," Mr Trump was quoted as saying in the interview. "And these people led it!"
"So I think it's something that had to be done," he added.
Mr Trump's actions have been widely condemned, including by respected former admiral William McRaven, the commander of the US Navy SEAL raid that killed Osama bin Laden.
"Through your actions, you have embarrassed us in the eyes of our children, humiliated us on the world stage and, worst of all, divided us as a nation," he said.
But most of Mr Trump's Republican allies have defended the move or refused to condemn it publicly.
On Friday, Mr Trump said he would likely remove the security clearance of Justice Department official Bruce Ohr, who has been targeted by Trump supporters, in part because his wife worked for a company that produced a dossier alleging Russia had incriminating evidence against the now president.
"Bruce Ohr is a disgrace. I suspect I'll be taking it away very quickly," Trump told journalists.
The Washington Post, citing senior administration officials, reported that the White House has drafted documents revoking the clearances of officials, both current and former, who have criticised Mr Trump or been involved in the Russia probe.
The newspaper added that aides have also discussed the best times to release them in order to distract attention from negative news.
&&&&&&&&&&&&&&&&&&&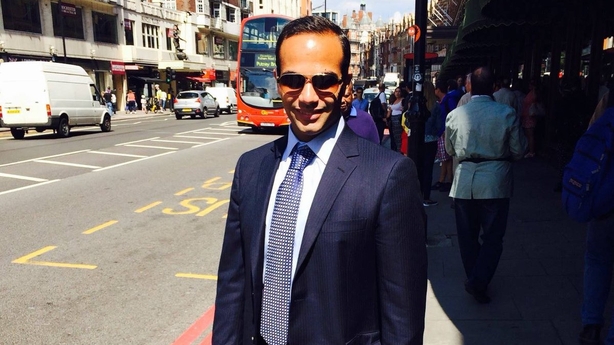 Ex-Trump aide faces up to six months in jail
Meanwhile, US Special Counsel Robert Mueller has recommended in a court filing that a judge sentence former Trump campaign aide George Papadopoulos to up to six months in prison for lying to federal agents investigating whether Russia interfered in the 2016 US presidential election.
Papadopoulos pleaded guilty in October to lying to FBI agents and is scheduled to be sentenced on 7 September.
According to Mr Mueller's sentencing memorandum to the judge, Papadopoulos lied about his contacts with people who claimed to have ties to top Russian officials, including his meeting with a professor who said Russia had "dirt" on Democratic presidential candidate Hillary Clinton.
"The defendant's crime was serious and caused damage to the government's investigation into Russian interference in the 2016 presidential election," Mr Mueller's memo said.
"The defendant lied in order to conceal his contacts with Russians and Russian intermediaries during the campaign and made his false statements to investigators on 27 January 2017, early in the investigation, when key investigative decisions,including who to interview and when, were being made," Mr Mueller said.
Mr Mueller said the government believed a sentence of up to six months in prison was "appropriate and warranted" along with a fine of $9,500.
Papadopoulos unwittingly played a key role in triggering the FBI investigation into possible collusion between Trump's campaign in Russia, which the president repeatedly has denounced as a "witch hunt."
While drinking at a London bar in May 2016, he told the Australian ambassador to Great Britain that the Russians had hacked thousands of emails that could damage Clinton's presidential campaign.
When the emails began appearing publicly two months later, the envoy, Alexander Downer, told US diplomats about what Papadopoulos had said, according to US officials familiar with the events.
Muller also told the judge that Papadopoulos had not fully cooperated with prosecutors.
"The defendant did not provide 'substantial assistance,' and much of the information provided ... came only after the government confronted him with his own emails, text messages,internet search history and other information it obtained via search warrants and subpoenas," Mueller wrote.
Mueller also said Papadopoulos avoided until the last moment telling prosecutors about a cell phone he used in London that had "substantial communications" on it between he and the professor who claimed to know about Russian information on Ms Clinton.