A former Australian archbishop convicted of concealing abuse by a notorious paedophile priest in the 1970s was confronted by enraged victims outside a courthouse after a judge spared him jail and ordered he serve his sentence at home.
Philip Wilson became one of the highest-ranked church officials convicted of covering up child sex abuse when he was found guilty in May of concealing crimes by priest Jim Fletcher in the Hunter region of New South Wales.
The Newcastle Local Court sentenced the 67-year-old to 12 months' imprisonment, with a non-parole period of six months, but also ordered that he be assessed to serve it in home detention.
Wilson had since been on bail and this morning magistrate Robert Stone decided he will not need to spend time behind bars, with his age and prior good record taken into account.
But he will have to wear a tracking device while serving his sentence.
Wilson said nothing as he left the court, where he was confronted by abuse survivors and members of the media.
We need your consent to load this rte-player contentWe use rte-player to manage extra content that can set cookies on your device and collect data about your activity. Please review their details and accept them to load the content.Manage Preferences
Peter Gogarty, one of Fletcher's victims, asked Wilson to apologise, but the cleric stayed silent.
"Any words for me, Philip? Philip will you say sorry for what you have done to me and other child sex abuse survivors?," he said. "Philip, please, something ... one word of contrition."
One of Wilson's supporters asked Mr Gogarty why he did not come forward 40 years ago.
A fuming Mr Gogarty called him "a pig, a typical Catholic", to which the Wilson aide replied: "I don't have time for rubbish like you, mate."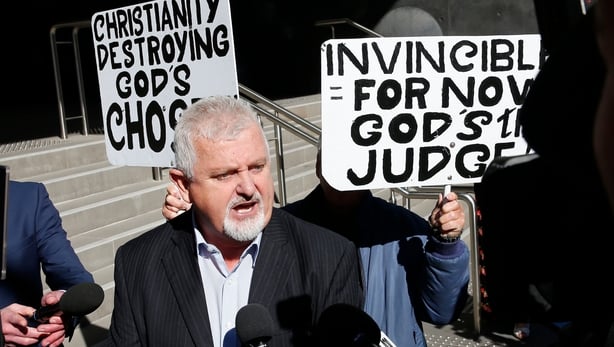 Another Fletcher victim Daniel Feenan also criticised Wilson for failing to say sorry.
"I'd like to see him show some type of remorse and I'd like to see him apologise," he told the Newcastle Herald.
Wilson resigned as archbishop of Adelaide last month soon after Australian Prime Minister Malcolm Turnbull called on the Vatican to sack him. He remains an ordained bishop but has no official role.
He has long denied the charges and initially resisted calls to quit pending an appeal against his conviction.
Judge Stone found him guilty of concealing a serious indictable offence of another person, concluding his primary motive was to protect the church. 
During sentencing the judge added that "there is no remorse or contrition showed by the offender".
Wilson's conviction comes amid a host of accusations that the Catholic Church ignored and covered up child abuse in Australia, charges that have also plagued other countries.
There was no dispute during the trial that Fletcher, who is now dead, sexually abused an altar boy, with the hearing focused on whether Wilson, then a junior priest, was told about it.
In a brief statement, Bishop Greg O'Kelly, who is running the Adelaide archdiocese until a new archbishop is appointed, said Wilson was "in his prayers as he formally commences this stage in his life, while also remembering the victims and survivors of abuse in the church".
Wilson served as a priest in New South Wales before Pope John Paul II appointed him Bishop of Wollongong in 1996. He became the Archbishop of Adelaide five years later.