Vandals have defaced a Paris plaque to the last gay couple to be put to death in France in 1750.
The plaque was painted black and covered in posters suggesting only heterosexuals should have children.
The incident is the third of its type in as many months in the French capital and comes as the city hosts the tenth edition of the international Gay Games.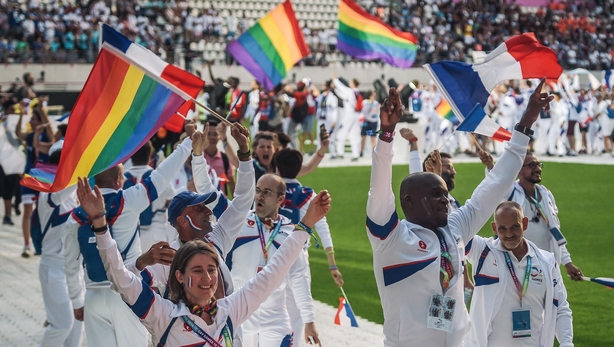 The plaque embedded in paving stones in the central Montorgueil district commemorates Bruno Lenoir, a cobbler in his 20s, and Jean Diot, a servant aged 40.
They were burned alive outside Paris city hall on 6 July 1750 after being caught engaging in homosexual activity.
They were the last couple to be put to death for homosexuality, which was decriminalised in 1791.
Je suis choquée par cette nouvelle démonstration honteuse d'homophobie ! Cette plaque rend hommage à Bruno Lenoir et Jean Diot, derniers condamnés à mort pour homosexualité. Cet acte ne fait que renforcer notre détermination à lutter contre les discriminations. #LoveWins pic.twitter.com/EuH6c5CeIj

— Anne Hidalgo (@Anne_Hidalgo) August 6, 2018
A picture tweeted by Paris Mayor Anne Hidalgo showed that the plaque had been smeared in black paint and covered with sheets of paper reading: "To make a child I must be a man and not gay."
This is the second time the metal plate has been targeted since May, when bouquets of flowers laid at the site were set alight.
In a separate incident in June, vandals scrawled homophobic insults on a pedestrian crossing in the Marais district - the epicentre of Paris's LGBT community - that had been repainted in the rainbow colours of the gay pride flag.
Ms Hidalgo said she was "shocked by this latest shameful demonstration of homophobia".