The family of an Irishman who disappeared almost 33 years ago has been told that DNA analysis has confirmed a match with a body that has remained unidentified in Wales since 1985.
The DNA comparison has provided a "one in a billion" match, confirming the body washed up on the Welsh coast in November 1985 is that of Brendan Dowley who disappeared three weeks earlier.
Mr Dowley, a father of four, was 63 years old when he was last seen boarding a bus in Kilkenny on 17 October 1985 for onward travel by ferry to Britain.
Last June, a body was exhumed at Menai Bridge Cemetery, close to Holyhead in north Wales, so that DNA samples could be taken and compared to the Dowley family.
The decomposed body had washed up on the Welsh coast on 9 November 1985.
Due to the limited nature of forensics at that time, the body was buried unidentified.
Until the body was identified this weekend it was one of more than 600 unidentified bodies that lie in British cemeteries.
The decision to exhume the body and compare DNA samples with the Dowley family was taken following a review of the case by North Wales police and in consultation with gardaí and the Dowley family.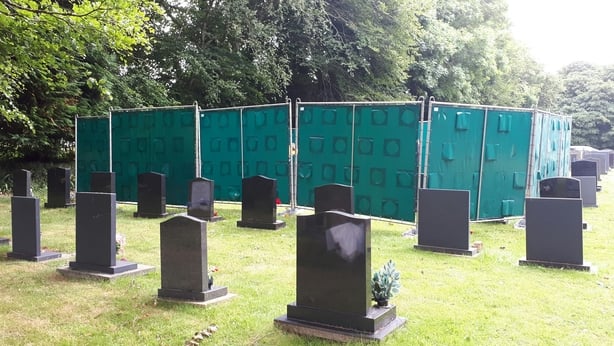 One of Brendan Dowley's sons Alan is a retired Garda.
In a Prime Time report in July of last year, he described how he had found medical records from a hospital in London, which indicated his father had undergone various medical procedures which match scar injuries on the unidentified body.
He and his siblings provided DNA samples to Sergeant Richie Lynch at the Garda Missing Persons Bureau, who in turn was liaising with Constable Don Kenyon from North Wales Police in relation to a number of unidentified bodies currently being investigated.
Gardaí are currently taking DNA from as many missing persons families as possible under 'Operation Runabay' to be compared with DNA databases in a number of jurisdictions, while north Wales police are running 'Operation Orchid' which is examining more than a dozen unidentified case in Wales.
We need your consent to load this rte-player contentWe use rte-player to manage extra content that can set cookies on your device and collect data about your activity. Please review their details and accept them to load the content.Manage Preferences

News that a "one in a billion" DNA match had been made was given to Alan Dowley who in turn informed the rest of his family, including his mother, who is now 97 years old.
The match is a particularly impressive result in matching an unidentified body to that of a missing person.
It means that DNA comparisons conducted by scientists at Forensic Science Ireland show that it is one billion times more likely that the body washed up in Wales in 1985 is the father of Alan Dowley and his siblings than it being any other person.
The local coroner in north Wales, Dewi Pritchard Jones, has been informed of the DNA match and will now schedule an inquest.
"I want to thank the north Wales police, gardaí and Forensic Science Ireland for all their work on this case', Alan Dowley told RTÉ News.
"I am glad we have had a positive result, it provides closure for our family, an inquest will be held in Wales, and we can make arrangements."
He also encouraged other families of missing people to give DNA samples to be compared with databases of unidentified bodies.
"We have to count ourselves lucky as a family. It has come to an end. I would encourage people to give their DNA."
This is the second successful investigation by north Wales police which has matched a decades old unidentified body in its jurisdiction with a missing Irish person.
Last December, the body of Pauline Finlay was exhumed in Wales and repatriated to Ireland after DNA analysis confirmed her identity.
Ms Finlay vanished while walking her dogs on a beach in Kilmuckridge, Co Wexford in 1994.
Speaking recently about the ongoing work of identifying bodies Detective Constable Don Kenyon said he and his colleagues were examining more than a dozen unidentified bodies washed up on the north Welsh coast in the last five decades.
"We combine the latest advances in DNA technology and traditional investigative methods to help conclude enquiries started years ago," said Mr Kenyon.
"The focus of the operation is simply to identify, reunite and allow the dignity of a funeral service for family and friends to pay their respects."