Around 50,000 people have taken part in this year's Belfast Pride parade, the biggest LGBT march in the city since the event began 27 years ago.
Groups taking part included voluntary and community organisations, business and corporate institutions, trade unions and local councils.
Most of the main political parties, apart from the DUP, also participated.
An Garda Siochána was officially represented by several officers marching in uniform, accompanied by colleagues from the PSNI.
Along with the huge numbers taking part, thousands more lined the route through Belfast city centre.
Campaigners from the Love Equality campaign used the parade to highlight their call for British Prime Minister Theresa May's government to extend marriage rights to LGBT couples in Northern Ireland.
Patrick Corrigan, Northern Ireland director of Amnesty International, said the march is still very much a protest in Belfast.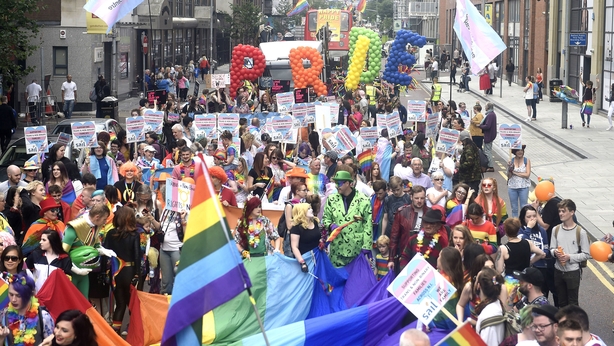 "Pride is always the most colourful day of the year in Belfast. This year it is bigger and brighter than ever," he said.
"People on the streets of Belfast today are sick of a second-class citizenship based on who they are and where they live.
"Theresa May and (Northern Ireland Secretary) Karen Bradley should be ashamed that 18 months after the collapse of devolution, same-sex couples in Northern Ireland are still waiting to be treated as equals.
"This is now in their hands," he added.
The DUP has come under fire this week at various Pride events in Belfast over the use of a petition of concern to block legalisation of same-sex marriage when the Assembly was sitting.
We need your consent to load this rte-player contentWe use rte-player to manage extra content that can set cookies on your device and collect data about your activity. Please review their details and accept them to load the content.Manage Preferences

DUP leader Arlene Foster claimed on Thursday that a bid to fly a Pride flag at a council building was a republican ruse to remove the Union flag.
Armagh City, Banbridge and Craigavon Borough Council (ABC) councillors had voted to fly the flag at the weekend, to coincide with Pride Day, but DUP members triggered a procedural mechanism on Tuesday claiming that proper process had not been followed.
The "call-in" mechanism, which needs the backing of 15% of councillors, requires officials to seek legal advice on a course of action before proceeding.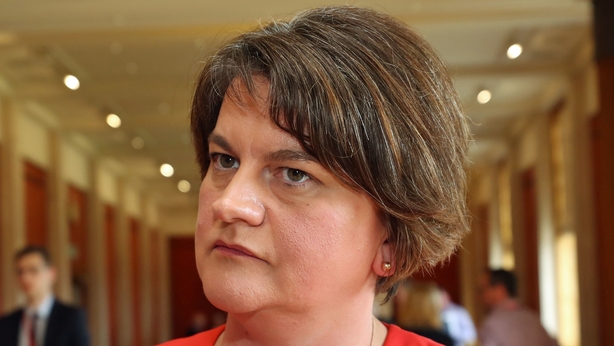 Ms Foster told BBC Radio Ulster: "As I understand it, the issue is not about Pride, the issue is about that the policy in the ABC council is only to fly the Union flag and the Armed Forces Day flag, and colleagues felt this was a ruse by republicans to remove our national flag, and it's not about respect or Pride at all.
"We should have respect for each other but not if it's going to be used as a ruse to take down the national flag."
The move was labelled "bizarre" by Sinn Féin.
Meanwhile, a group of around 50 Christian anti-Pride campaigners gathered at Belfast City Hall to protest against the event, reading Bible verses and singing hymns.
The Pride Festival is now one of the biggest events in Belfast and it has involved more than 100 events across 10 days.
Additional reporting: PA