The new head of the British armed forces, General Nick Carter, has said he will not allow an unjustified legal pursuit of British soldiers wrongly accused of misconduct while on operations in Northern Ireland and elsewhere.
General Carter spoke out about Northern Ireland veterans being "chased by people making vexatious claims" of wrongdoing, and vowed: "That will not happen on my watch".
He praised the "remarkable job" done by the British army in Northern Ireland and said groundless allegations against soldiers risked undermining the army's fighting spirit.
He promised that soldiers facing any investigation would be looked after "to the best of our ability".
Speaking at a media briefing, Gen Carter said: "It is right and proper that if our soldiers have done something wrong then they should clearly be investigated. But only if they have done something wrong.
"We need to have standards, we need to have values that people are held against otherwise we will lose the moral high-ground.
"What is fundamentally wrong though is if they're chased by people who are making vexatious claims - and that will not happen on my watch. Absolutely not."
He added: "If you end up with a clutch of vexatious claims then that undermines morale and has the risk of undermining our combat ethos and our fighting spirit.
"I would absolutely stamp on any of that sort of activity."
His comments came after his predecessor said he was "deeply uncomfortable" at the prospect of British army veterans facing investigation for actions which occurred during the Troubles.
We need your consent to load this rte-player contentWe use rte-player to manage extra content that can set cookies on your device and collect data about your activity. Please review their details and accept them to load the content.Manage Preferences
Air Chief Marshal Stuart Peach, who stepped down as Chief of the Defence Staff in June, said it was a political decision as to whether there should be a statute of limitations on inquiries into past events.
But he made clear that he was concerned at the way such investigations could play out.
Defence minister Tobias Ellwood broke ranks with the official government position when he backed calls for a time limit for investigations.
A consultation document issued by Northern Ireland Secretary Karen Bradley on dealing with the legacy of the Troubles does not include provision for a statute of limitations, to the anger of many Conservative MPs.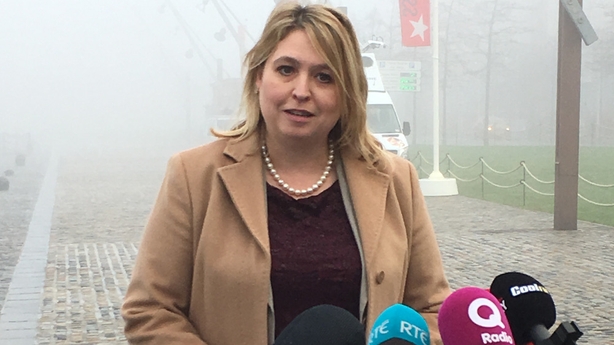 But Defence Secretary Gavin Williamson has pledged to look at "all options" to protect veterans from legacy investigations amid fears Second World War campaign survivors could be targeted.
Gen Carter said: "What we must try and remind ourselves about this whole Northern Ireland issue is actually what an extraordinarily amazing task the British army did through 30 years in Northern Ireland.
"And we wouldn't be in a position which we now are in if the British Army hadn't done a remarkable job in getting us to that position - and I really hope that's not forgotten in all of this."
Gen Carter said service personnel facing investigation would receive as much help as they needed.
He continued: "The point I'd make is that we as an institution... are absolutely going to look after those people who are being investigated this way, to the best of our ability.
"A lot of people have got a lot of opinions about that and that's part of the consultation - and I think it would be wrong for me to prejudge which direction it went in.
"I think it is sad this is happening.
"I think that of course there is a process of consultation going on at the moment and I don't really want to prejudge where that consultation goes."
Writing in the Daily Telegraph, Ms Bradley warned that implementing a statue of limitations could let terrorists off the hook.
She said: "Some have called for a statute of limitations for veterans, but we believe that is not legally possible without extending it to the terrorists - something this government could not support."
The minister hit out at attempts by some to "rewrite the history of the Troubles to justify terrorism" and warned investigators of unsolved killings, including murders of soldiers, that they are legally obliged to act in a fair, balanced and proportionate way.
Ms Bradley said she understood concerns over the treatment of veterans "in what some see as the apparently disproportionate focus on their actions rather than those of the terrorists".
"We should never forget that 90% of the killings were carried out by terrorists and just 10% by those acting on behalf of the state - almost all of the latter lawfully".
Sinn Féin Mid Ulster MLA Linda Dillon described Gen Carter's comments as "extremely insulting and hurtful".
She also challenged him to meet with families who have made claims over the actions of soldiers.
However, Ulster Unionist MLA and former soldier Doug Beattie praised the general's comments.
He said to many people have lost sight of the fact that 99% of victims during the Troubles were due to terrorist action and "unlike the security forces, every terrorist act was premeditated with unlawful death the intended outcome."