A powerful storm has hit Japan, churning across western areas already affected by floods and landslides earlier this month, injuring over 20 people.
Typhoon Jongdari, with winds of up to 180kms per hour, made landfall at Ise in Mie prefecture.
More than 170 domestic flights were cancelled for Sunday and train services were disrupted.
A total of 21 people have been injured in the past few days as the storm brought violent winds and torrential rains.
Prime Minister Shinzo Abe warned that the storm could continue to bring heavy rain even after the epicentre had passed by.
The typhoon weakened after making landfall and was downgraded to a tropical storm but many provinces stayed on alert.
"We have been on emergency alert the whole time since the rain disaster" in early July, said Koji Kunitomi, a crisis management official in the western prefecture of Okayama.
"Fortunately, so far, we haven't seen new flooding," he told AFP.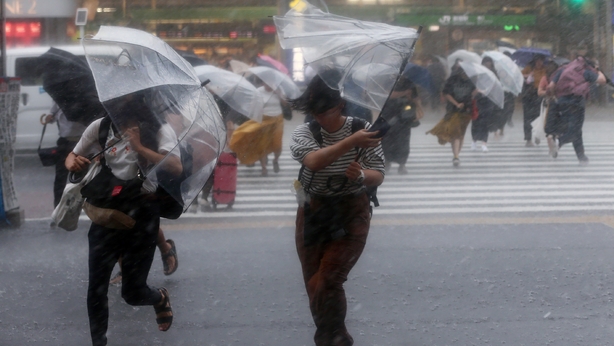 The storm, after unleashing torrential rain over eastern and Japan, moved west and then south on Sunday.
TV footage showed high waves smashing onto rocks and seawalls southwest of Tokyo and trees buffeted by strong winds and heavy rain.
The storm moved across the western region of Chugoku, where record rainfall early this month unleashed flooding and landslides which killed around 220 people.
It was Japan's worst weather-related disaster in decades, and thousands of those affected are still in temporary shelters or damaged homes.
The storm was hitting the nation's southern land mass of Kyushu late Sunday.
The authorities in Kyushu urged residents to evacuate before rain intensifies.
In Japan, evacuation orders are not mandatory and people often remain at home, only to become trapped later by rapidly rising water or sudden landslides.
Japan is now in typhoon season and is regularly hit by major storms during the summer and autumn.