Venezuela is to remove five zeroes from its bolivar currency next month - rather than the three zeroes originally planned.
President Nicolás Maduro announced the move in an effort to keep up with inflation that is projected to reach 1,000,000% this year.
The OPEC nation's economy has been steadily collapsing since the 2014 oil price crash.
Annual inflation in June topped 46,000%, according to the opposition-run Congress.
The IMF said this week it could hit seven digits this year, putting it on par with the crises of Zimbabwe in the 2000s and Germany in the 1920s.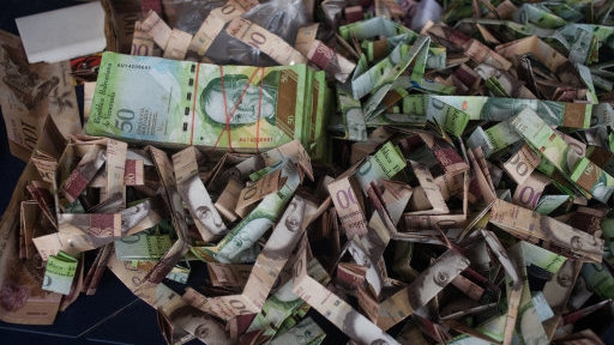 "The monetary reconversion will start on August  20," Mr Maduro said in a televised broadcast, showing new denomination notes that are to be released next month.
The measure, according to Mr Maduro, seeks to "protect" local currency. "Five zeroes fewer, so that we may have a new, stable financial and monetary system," he said.
He said the overhaul would tie the bolivar to the recently launched state-backed cryptocurrency called the petro, without offering details.
Cryptocurrency experts have said the petro suffers from a lack of credibility because of a lack of confidence in Mr Maduro's government and the mismanagement of the country's existing national currency.
The government has said it is the victim of an "economic war" led by opposition leaders with the help of the United States, which last year levied several rounds of sanctions against Mr Maduro's administration and a group of top officials.
The country's high inflation rate has made it nearly impossible to obtain cash.
Venezuela's minimum wage is now about the equivalent of $1 a month, which has left citizens across the country unable to eat properly or obtain basic medical care - fuelling an exodus of Venezuelans seeking to escape the economic crisis.
The government had been prepared to cut three zeroes off the currency in June but postponed the measure at the request of banking industry leaders who said the financial system was not ready for the measure.