The European Union has called on the United States, China and Russia to work together to cool worsening global trade tension, warning that they could spiral into violent "conflict and chaos".
The comments from EU Council President Donald Tusk comes as the US and China stand on the brink of an all-out trade war many fear could hammer the global economy, while the US has also picked fights with allies in Europe and Canada.
"It is the common duty of Europe and China, but also America and Russia, not to destroy (the global trade order) but to improve it, not to start trade wars which turned into hot conflicts so often in our history," Mr Tusk said in Beijing.
"There is still time to prevent conflict and chaos."
Mr Tusk spoke after meeting Chinese Premier Li Keqiang as part of an annual EU-China summit that opened against the backdrop of the deepening global trade discord.
The EU - the world's biggest single market with 28 countries and 500 million people - is trying to buttress alliances in the face of the protectionism unleashed by US President Donald Trump's "America First" administration.
The meeting between Chinese and European officials in Beijing, which also included European Commission head Jean-Claude Juncker, comes as Mr Trump prepared to hold talks in Helsinki with Russian leader Vladimir Putin.
Mr Trump sprinkled further spice on the rising rancour in a interview aired yesterday in which he labelled the EU, Russia and China as "foes" of the United States.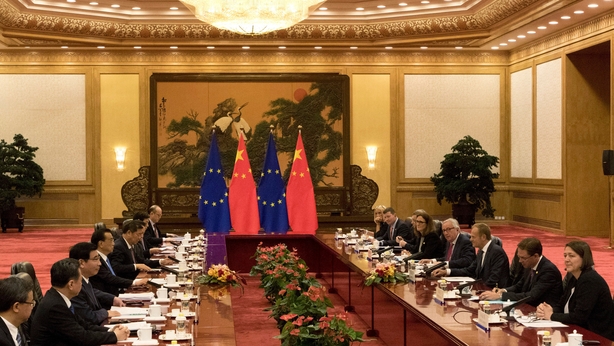 Mr Tusk said in Beijing that the world needs trade reform, not confrontation.
"This is why I am calling on our Chinese hosts, but also on presidents Trump and Putin, to jointly start this process from a thorough reform of the WTO (World Trade Organization)," Mr Tusk said.
"Today we are facing a dilemma, whether to play a tough game, such as tariff wars and conflict in places like Ukraine and Syria, or to look for common solutions based on fair rules."
Mr Tusk did not immediately specify what sorts of reform he was referring to.
French President Emmanuel Macron had called in late May for talks on overhauling the WTO.
At the time, European companies were bracing for punishing US tariffs on steel and aluminium imports that ultimately went into effect on 1 June.
Besides the steel and aluminium tariffs on the EU, Russia and major US trading partners, Mr Trump earlier this month implemented tariffs on $34bn worth of Chinese imports, drawing a tit-for-tat response from Beijing.
The US last week threatened yet more measures on another $200 billion in Chinese goods, prompting Beijing to vow further retaliation.
The back-and-forth has heightened fears that trading powers will hunker down into a destructive all-out trade war that could hit global growth.
China said today that its economic growth rate had slowed slightly to 6.7% in the second quarter of this year, from 6.8% the previous quarter, and a government spokesman warned a trade conflict threatens all the affected economies.
"The China-US trade friction unilaterally provoked by the United States will have an impact on the Chinese and US economies," Mao Shengyong, a spokesman for the national statistics bureau.
"Now that the world economy is deeply integrated, industrial Chains have become globalised, and many related countries also will feel an impact."