All migrant children under the age of five who were separated at the US-Mexico border will have been reunited with their parents by early today if they were eligible, a Trump administration official said in a statement.
However, the American Civil Liberties Union, which sued the government over its separation policies, disputed that assertion.
"Their statement is vague at a minimum," said attorney Lee Gelernt, noting that a San Diego judge had set a deadline of Tuesday for reuniting those children.
"We know they missed the deadline."
The government has said some children were not eligible for reunification because the parent was deported, had a criminal record or was otherwise unfit.
US Judge Dana Sabraw in San Diego had ordered the government to reunite the children under the age of five by Tuesday and all separated children by 26 July.
Today, the government will give Judge Sabraw a progress report on the younger children and whether it expects to meet the deadline for the older group.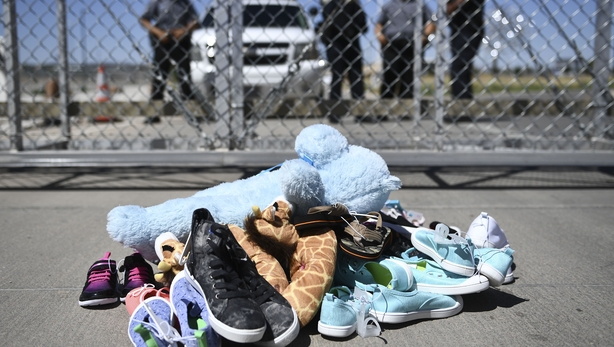 Rights advocates have blamed the US government's poor technology for difficulties tracking children across multiple government agencies involved in their detention and care.
The government has said the delays stem from the time it takes to run background checks, confirm parentage and locate parents released from detention.
The government has said around 2,300 children were separated from their parents at the border under the Trump administration's "zero tolerance" policy on illegal immigration, which was abandoned in June after intense protests.
The ACLU's attorney said the government is not even close to reuniting all the children under five with their parents, including 12 adults who were deported without their children.
Since the US government first came under pressure to ease its policy on separations weeks ago, it has shifted its estimates of the number of children it would reunite.
The latest figures it released were early on Tuesday, when officials said that four children under five had been reunited and at least 34 more would be with their parents by the end of the day.
The struggle to track and match parents with children under five suggests the government may have more difficulties in meeting a 26 July deadline for reuniting the remaining 2,000 older children with adults from whom they were separated.
"That is going to be a significant undertaking," Judge Sabraw said on Tuesday of the next deadline.
President Donald Trump took to Twitter yesterday to blame the Democratic Party, among others, for failing to fix what he has characterised as a broken immigration system.
Democrats in Congress must no longer Obstruct - vote to fix our terrible Immigration Laws now. I am watching what is going on from Europe - it would be soooo simple to fix. Judges run the system and illegals and traffickers know how it works. They are just using children!

— Donald J. Trump (@realDonaldTrump) July 11, 2018
"Judges run the system and illegals and traffickers know how it works. They are just using children!" he said.